Home >
> Child Welfare Certification Program
Child Welfare Certification Program
Education & Employing Social Workers in the State of TN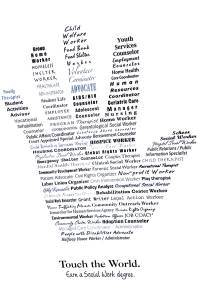 The Social Work Program at Tennessee State University and the Tennessee Department of Children's Services (TDCS) have entered a partnership to recruit BSSW students for the Child Welfare Certification Program.  We are seeking students who are interested in a career in child welfare.
The certification program requires the applicant: be a full-time student with at least four semesters remaining before graduation; have an overall 2.6 cumulative GPA; complete two elective child welfare courses in addition to the necessary course work for the BSSW degree; and complete field education with the TDCS. A background check on each applicant is also conducted. 
Each applicant will be interviewed.  Students selected for the certification program will receive a full in-state tuition scholarship and stipend for text books and living expenses for a maximum of four semesters.  In exchange for this funding, the student agrees to work for TDCS for two years upon graduation. 
BSW/BSSW Certification Program Information and Application Deadlines
Apply for the DCS Certification Program
To Apply to the Program: The application process and materials are located on the Title IV-E website. Please read all the information provided on the website: http://www.tn.gov/dcs/article/tuition-assistance-programs
Application Deadlines:
Fall Semester - June 15
Spring Semester - November 15
INTERESTED?
Please contact:
Sirena Bragg
BSW/MSW Program's Manager
Department of Children's Services
Cordell Hull Bullding, 7th Floor
436 6th Avenue North
Nashville, TN 37243
Office Phone: 615.253.6821
Email: sirena.y.bragg@tn.gov
Brittany M. Green
DCS Tuition Assistance Program Specialist
Department of Children Services
Cordell Hull Building
436 6th Ave. North 7th Floor
Nashville, TN 37243
Office Phone: 615.741.1220
---
webpage contact:
Social Work