Home >
> News-Social Work
News-Social Work
State Recognizes Longtime TSU Professor with Lifetime Achievement Award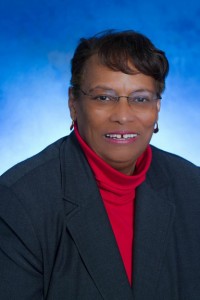 NASHVILLE (TSU News Service) - From her early elementary days, Vicki Gardine Williams always knew she wanted to become a social worker.
Seeing the plight of less fortunate people in her community, Williams felt she had to do something to help.
"I had a strong desire to change the living conditions and social structure of families who lived in affluent environments than I did," said Williams. "I just felt that it was unfair and unjust."
What started as a dream for the U.S. Virgin Island native, did not only become a reality but a lifelong pursuit and passion for teaching, breaking new grounds and outreach to ensure better life for her fellow human beings.
These efforts over the past 38 years have earned garnered her awards, as well as local, state and national recognitions from her peers.
On March 27, Williams, professor and director of the Social Work Program at Tennessee State University, was honored by the state of Tennessee with the Social Work Lifetime Achievement Award, as hundreds cheered in the War Memorial Auditorium on the Legislative Plaza in Nashville.
The award, presented by Rhonda Jacks Moore, President of the Tennessee Chapter of the National Association of Social Work, recognized Williams for demonstrating the best social work values and accomplishments throughout her lifetime.
"We recognize Professor Williams for her superb accomplishments throughout her lifetime in the practice of social work." Moore said of her lifetime colleague whom she referred to as a friend. "She (Williams) has also been a leader in innovative avenues for providing social work and multicultural education."
In congratulating Williams, the Dean of the College of Public Service and Urban Affairs, Dr. Stephanie Bailey spoke of her (Williams) dedication and commitment to social work.
"The passion she has for and dedication to social work is so evident," Dr. Bailey said. "She lives and breathes it. Social Work is a nobler profession because of her contributions, dedication and passion."
Williams, who has been in higher education since 1975, has directed the TSU Social Work Program for the last 13 years, during which she has successfully ensured the continued accreditation of the program. She is a founding member of the Mid- Tennessee Collaborative Master of Social Work Program, the first in the country to bring together three universities (TSU, MTSU and Austin Peay ) to collectively offer the Master degree.
An active member of the National Association of Social Work-TN (NASW-TN), Williams previously served as Director-at-Large and Vice President of the Tennessee Chapter. She has served as Chair and Treasurer of Political Action Committee of NASW-TN. The previous and present Governors of the state also appointed her to the Tennessee Board of Social Work Licensure .
"I wholeheartedly cherish this award," Williams said. "To be recognized by your peers is just heartwarming. I think all my students, colleagues, and staff as well as my parents and family for this honor. I did not get to where I am by myself. It was with their encouragement and support for which I am most appreciative."
When asked what was next on her plate, Williams said, "I am going to keep doing what I do best, continue to help my
fellow human beings."
Williams' award ceremony occurred during Social Work Day on the Hill, When practitioners and students spend a day at the the State Capital interacting with lawmakers, and learning about political process. TSU social work undergraduate and graduate students joined students from other universities to present posters of their research, which were displayed in the Legislative plaza.
These ceremonies were the culmination of activities observing Social Work Month in March.
Department of Media Relations
Tennessee State University
3500 John A. Merritt Boulevard
Nashville, TN 37209
615.963.5331
---
webpage contact:
Social Work Program