New Student Orientation



Make a smooth transition to life at Tennessee State University. Immerse yourself in TSU's campus culture, academic programs, and social scene by taking advantage of New Student Orientation programs. Learn about the excitement and challenges you'll encounter during your first year, including academic expectations and student life.
Before the start of the fall or spring semester, you and your parents and family members can participate in New Student Orientation sessions about financial aid, registration, advisement, and campus safety and security. You'll also make new friends, begin to form relationships with TSU's faculty and staff, and take a campus tour.
Once you're admitted to TSU, freshmen can register to attend one of our New Student Orientation programs and transfer students can obtain academic advisement and register for classes.
NEW STUDENT ORIENTATION SESSIONS
Freshmen
Transfer Students
International Students
Also, remember to review the Destination TSU Checklist or make hotel and travel arrangements if you're coming from out of town. When you attend, be sure to bring your registration confirmation and a notebook and pen. Wear comfortable clothing and good walking shoes.

Nashville Area Hotel Information

Why wait? Explore TSU for yourself. Visit us and see the campus, learn more about life in Nashville, and discover the heart of Big Blue Country. If you haven't already, be sure to apply for admission, request information, or contact Tennessee State University today.
New Student Orientation & First-Year Students
Student Success Center, Suite 103
P. O. Box 9568
615-963-1890 voice
615-963-1377 fax
orientation@tnstate.edu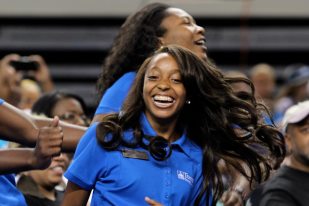 UPCOMING DATES

2015 Freshman Orientation Date
August 18

MISSED FRESHMAN ORIENTATION?
Please attend the Opening Session for New Students on August 19 at 8:00 am in Gentry Complex to receive assistance with course registration.

New Student Welcome Events - REQUIRED FOR ALL NEW STUDENTS

August 18
Warm Welcome BBQ for new students and parents, 4:30 - 6:00 pm, Administration Bldg Lawn

August 19
Opening Session for all new students, 8:00 - 10:00 am, Gentry Complex
College Meetings and Open Houses, 10:00 am - 3:00 pm, Various Locations
PLAYFAIR with the Class of 2019, 4:00 - 6:00 pm, Gentry Complex
August 20
Becoming a Part of the TSU Community, 9:45 - 11:00 am, Gentry Complex
Arian Simone: My Fabulous & Fearless Journey, 2:00 - 4:00 pm, Gentry Complex
Freshman Idol, 7:00 - 9:00 pm, Gentry Complex
Pep Club - Jungle Stand Practice, 10:15 - 11:15 am, Gentry Complex

After attending Freshman Orientation, please complete the STUDENT EVALUATION.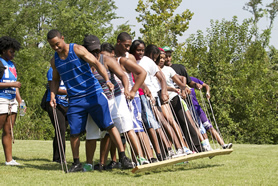 Interested in becoming a University Ambassador?

University Ambassador Selection Poster
University Ambassador Application Packet
University Ambassador Application 2015


Application Deadline - March 27, 2015