Admissions for the AASN, BSN, and RN-to-BSN programs have been suspended for the Fall 2018 class forward, until further notice.  Admissions for the MSN program remains unaffected. All programs continue to be accredited by ACEN.


Thank you for your interest in our nursing programs.  While we are not currently able to admit to the undergraduate nursing programs, we hope you explore our other offerings in the health sciences field, they are: BS in Health Sciences, AAS in Dental Hygiene, BS in Dental Hygiene, BS in Respiratory Care, BS in Health Information Management, BS in Human Performance Sport Sciences and BS in Healthcare Administration and Planning.
NOTE: Regular updates about the nursing program may be obtained at http://www.tnstate.edu/nursing.  Additional questions about the bachelor's program can be directed to Dr. Revell at mrevell@tnstate.edu .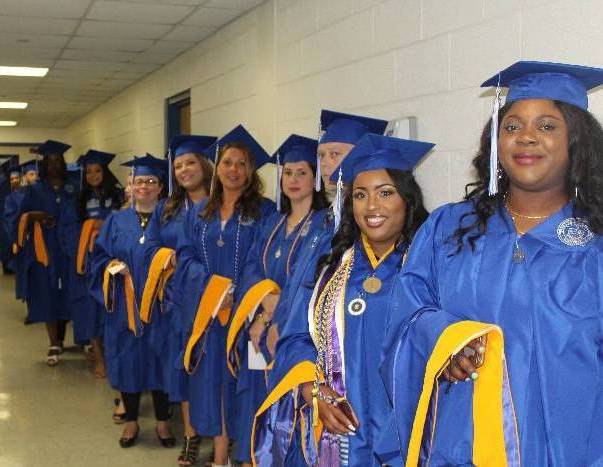 School of Nursing
The School of Nursing and each of its nursing programs are accredited by the Accreditation Commission on Education in Nursing and are approved by the Tennessee State Board of Nursing.  
School of Nursing - Our Mission Statement
The mission of the School of Nursing is to prepare nurses at the generalist, specialist, and advanced practice levels who provide safe, culturally sensitive, evidence-based, compassionate care to diverse populations in multiple settings. This mission is accomplished through the preparation of nurses to serve as clinicians, leaders, educators, and advocates, with a commitment to service and lifelong learning.
School of Nursing  - Our Philosophy
The mission, role, and scope of Tennessee State University provide the framework for the implementation of the beliefs of the nursing faculty.  The School of Nursing reflects the philosophical concepts of the University.  As a component of the School of Nursing, each program is designed to enhance the skills of the learner to the maximum potential for functioning in a changing society, delivering safe, culturally sensitive nursing care, and promoting intellectual and professional maturity.
Nursing practice for all levels of nurses focuses on optimizing the client's health through health promotion, health maintenance, and health restoration activities that minimize stressors and support the client's adaptation.  Nurses adhere to nationally recognized standards of practice and their conduct exemplifies legal and ethical standards of professional excellence. Differentiation of practice in nursing is based on educational preparation, professional standards, certification, and legal definitions.  The ultimate educational outcome is to improve the quality of life for the individual, family, and community.  
Enjoy Helping People?
Become the best possible health care professional you can be, and help meet the growing demand for skilled nursing professionals to serve our changing population. Start on the path to your nursing career at Tennessee State University, where our exceptional faculty members are dedicated to your professional advancement.
Explore nursing concepts as you learn to analyze health problems and intervene to meet patient and family needs. Learn to communicate effectively with both clients from diverse backgrounds and your professional healthcare colleagues, while making a difference in the lives of others.
Our programs provide an excellent opportunity to be well prepared to take the NCLEX-RN licensing examination or National Certification examinations, apply your nursing education to positions in hospitals, health care clinics, schools, businesses, and industry, or serve individual clients as you make a significant contribution to the healthcare services in your community.
Invest in your future. Choose from affordable TSU program options to fit your schedule, whether you're just entering the field or pursuing an advanced degree. You'll enjoy coursework delivered through real-time video and Web-enhanced or online classes, as well as traditional classroom instruction. Excellent clinical placements in major hospitals and health care agencies throughout the Nashville metro area and beyond offer you the hands-on, practical experiences you need to succeed in providing effective patient care.
---
Accreditation
All Nursing Programs at Tennessee State University are fully accredited by the Accreditation Commission for Education in Nursing, Inc. (ACEN), 3343 Peachtree Road, NE, Suite 850, Atlanta, GA 30326; 1-404-975-5000.
---
Why wait? Explore TSU for yourself.
Visit us and see the campus, learn more about life in Nashville , and discover the heart of our exciting TSU Tiger community. Apply for admission,  request information , or contact Tennessee State University today.
For information regarding the School of Nursing, please contact:
Dr. Maria Revell
Interim, Executive Director
615-963-5253
mrevell1@tnstate.edu  
For information regarding the AASN Program, please contact:
Dr. Courtney Nyange
Interim, ASN Program Director
615-963-5265
chines3@tnstate.edu  

For information regarding the BSN Program, please contact:
Dr. Pinky Noble-Britton
BSN Program Director
615-963-5273
pnoble@tnstate.edu

For information regarding the MSN Program, please contact:
Dr. Donna Kenerson
Interim MSN Program Director
615-963-5252
dkenerso@tnstate.edu  
Fully Accredited Program
Affordable Classes
Faculty Committed to Your Professional Advancement
Clinical Learning Opportunities in Major Healthcare Agencies
Scholarship Options Available