Research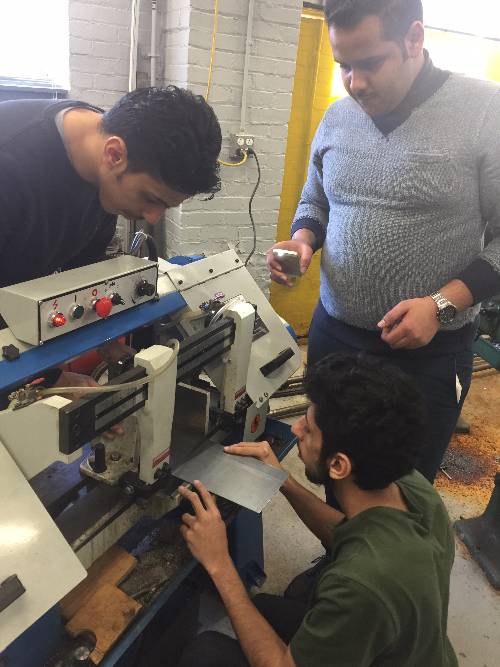 Our department performs research in the following areas:
Simulated-based Design and Optimization
Probabilistic and Axiomatic Design Methodology
Flexible Manufacturing Systems
Predictive and Preventive Maintenance
Vibration Control
Computational Mechanics
Dynamic Stability
Robotics
Turbulent Reacting Flow
Large Eddy Simulation (LES)
High-Performance Computing.
Computation fluid dynamics (CFD)
Hurricane storm surge modeling
Fluid-structure interaction
Control in the applications of aerial robotics
Morphing aircraft
Unmanned aerial vehicles/autonomous systems
Micro aerial vehicles
Multi-source multi-modality sensor data fusion
Machinery diagnostics and prognostics
Manufacturing visual inspection and quality control
Advanced manufacturing systems
Automation and intelligent manufacturing
Energy Storage Devices
Solar energy
Research Laboratories
Center of Excellence for Seat Comfort
Teaching Laboratories
The Department possesses 14 laboratories with over 12020 ft2.  The recent expansion of the Departmental laboratory space, inclusion of the newly added 1600 ft2 robotics laboratory, assures adequacy of laboratory space for the undergraduate laboratories and meets the needs of two new faculty members to be hired.
Room Number

Laboratory

Supported Courses

Condition / Adequacy for Instruction

Number Student Stations

Area

Ft2

Faculty

STAND-ALONE LABORATORIES

ET 102

Computational Facility for Graphics

ENGR 3200, 4500, and 4510

Good/Good

 

 

30 stations

 

834

 

Dr. Onyebueke

ET 104

Fluid Mechanics Laboratory

CVEN 3100, 3101,

ENGR 2250, and

MEEN 4250

 

Good/Good

 

12, students

 

913

 

Dr. Paily

ET 129

Measurements and Instrumentations

ME 3511

 

All MEEN courses

 

Satisfactory

 

12, Students

 

573

 

Prof. Muthuswamy

IA 110

Manufacturing Processes Lab,

ME 3521

MEEN 3100, 4400,

ENGR 4500, and 4510

Adequate, with modern manufacturing facilities.

 

12, Students

 

1066

 

Dr. Shirkhodaie 

ET 125

Mechatronics and Dynamic Systems,

MEEN 4011 4100, 4700, ENGR 4500, and 4510

State-of-the-art modern facilities were purchased

10, Students

953

Dr. Joe and

Dr. Hamidzadeh

ET 140

Thermal and Fluid Systems Lab,

 

ENGR 2010, 2250, 4500, 4510, MEEN 4021, 4150, 4200, and 4250

Satisfactory/Good

10, Students

953

Dr. Akbar and

Dr. Hadi

COURSE-INTEGRATED  LABORATORIES

 

ET 127

Flexible Manufacturing and Machine Design Lab,

MEEN 3210, 3250, 4230, 4400, 4800, ENGR 4500, and 4510

 

Satisfactory/ Satisfactory

 

12, Students

 

485

 

Dr. Shirkhodaie 

ET 240

Robotics

ENGR 4020, 4500, 4510 

Satisfactory /Adequate 

20,  Students 

951

 Dr. Shirkhodaie 

 

IA 106

 

Industrial Robotics

 

MEEN 3100, 3521, 4400, 4810, ENGR 4020, 4500, and 4510

 

Good/Adequate

 15,  Students hands on instructions

 

600

 

Dr. Shirkhodaie

 

IA 101

Computer Integrated Manufacturing Lab,

 

MEEN 3100, 3521, 4400, 4810, ENGR 4020, 4500, and 4510

 

Good/Adequate

15,  Students hands on instructions

 

557

  

Dr. Shirkhodaie 

 

IA 103

 

CAD/CAM/CAE

 

MEEN 3100, 3210, 3250, 3220, 3521, 4230, 4400, 4810, EEEN 4020, 4500, and 4510

 

Good/Adequate

 

12, Students

 

1600

  

Dr. Onyebueke

 

IA 107

Vibration and Machinery Monitoring

MEEN 4700,

ENGR 4500, and 4510

 

Good/Adequate

12, Students hands on instructions

 

450

Dr. Shirkhodaie

Dr. Hamidzadeh

 

ET 142

Materials Laboratory

ENGR 3300 and

MEEN 3100, 3521, 4400

 

Good/Adequate

12, Students hands on instructions

 

485

 

Prof. Muthuswamy
---