Battlefield Sensor Fusion
About the Lab
CE-BSF is a sponsored research laboratory supported by the US Army Research Office (ARO). It was originally established in 2004 through ARO Battlefield Capability Enhancement program. In 2009, the Center received another Five-year support from ARO through participation in a Multi-University Research Initiative (MURI) Program, led by University of Buffalo at Suny New York.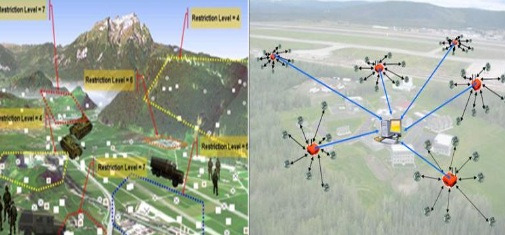 With the emergence of new micro-scale sensor technology, deployment of large number of inexpensive, small-scale, self-organizing, fault tolerant, multi-modal network of sensors scattered over a large terrain is achievable.  Such sensor networks can significantly improve military battlefield:
command,
control,
communications,
computing,
intelligence,
surveillance,
reconnaissance, and
targeting systems.
In the rapidly changing battlefields, interoperatability of distributed sensory system is not only vital to allow reliable assessment of the correct terrain situation critical for strategic decision-making, but also when counteraction is warranted by the actions of the adversary. 
---
VISION
Our Center's vision is to exploit potentials of data fusion techniques for advancement of fundamental understanding of sensor networks autonomous sensing behaviors, methods by which network's fault tolerance boosts, exploration of hierarchical communication protocols that significantly improve quality of service, sensor network informatics and visual analytics for rapid network trouble shooting, and investigation of suitable performance metrics that measures efficiency and effectiveness of new sensor network techniques. In particular, our research is focused on severely constrained sensors with limited functionality in energy, sensing, computation power, and communication capabilities.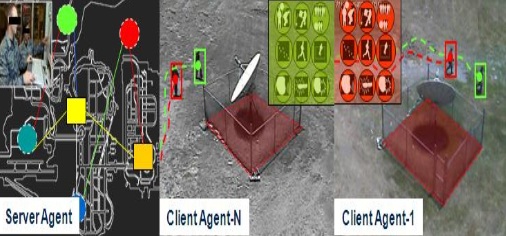 Another aspect of our research is involved with investigating robust techniques for Persistent Surveillance Systems. Particular, we are investigating distributed sensor networks consisting of heterogeneous agents: physics-based (Hard) agents (sensors) and biological (Soft) agents (human observers) collaboratively and cooperatively perform coordinated surveillance operations in resource constrained environments. Researchers at the CE-BSF introduced, for the first time, the concept of Energy Logic – an innovative biologically-inspired technique for achievement of aggregated Situation Awareness based on fusion of features of multi-modality multi-source sensors with latency in communication. Interested visitors are encouraged to read our numerous publications on this topic.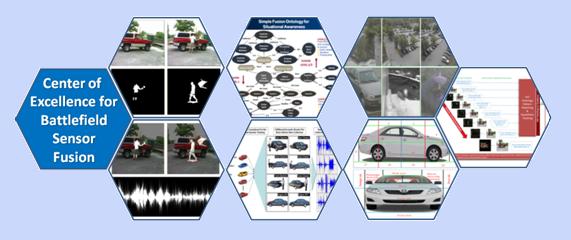 One other aspect of our research is related to Ontology-based Semantic labeling and annotation of multi-modality sensors via soft and hard sensor data/information fusion. More specifically, we are investigating context-based semantic labeling of Human-Vehicle interactions (HVI). Interested visitors are encouraged to read our recent publications on this topic.
---