Rama Annamraju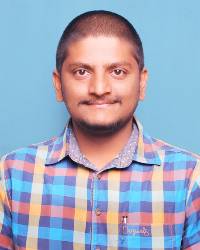 Education:
Masters in Mechanical Engineering, Tennessee State University, Nashville TN (Expected 2019)
Bachelors in Mechanical Engineering, Jawaharlal Nehru Technological University, Kakinada – India 12/2011
 Professional Experience:
Product Quality Engineer(R&D), FMC Technologies – India (2013 – 2016)
Product Design Engineer(Subsea Services), FMC Technologies – India (2012 - 2013)
Intern, FMC Technologies – India (12/2011 – 05/2012)
 Problem Description:
Using finite volume method we calculate the steady state temperature distribution in a Photovoltaic (PV) Cell. A Photovoltaic panel silicon layer has two primary components – the silicon cell, and the ethylene vinyl acetate encapsulation. We consider a definite amount of solar irradiation incident on the PV cell enabling it to generate energy. Natural convection occurs at the top and sides of the module. The bottom surface is insulated. The temperature distribution in the module segment is represented using the 3D heat conduction equation.
 Approach:
Computational approach is considered and Ansys Fluent will be used to calculate the solution.