Resident Assistant Program
Steps to Becoming a Resident Assistant (RA)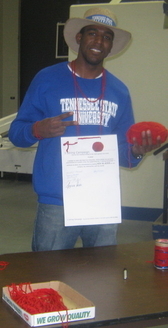 To become a Resident Assistant:
Meet the criteria for the position (full-time, undergraduate, enrolled Sophomore, Junior, or Senior student; 2.5 cumulative GPA or higher; previously resided in University Housing for at least one full year; no college disciplinary record)
Submit an RA application
Interview with the Student Affairs panel for RA selection
Job placement will be determined by the Assistant Director of Residence Life
If selected your first steps will be to:
Read the required literature, as assigned by the Assistant Director of Residence Life, before attending the RA training in August;  RAs read the textbook: Resident Assistant - Working with College Students in Residence Halls (5th Edition) by Gregory S. Blimling
Attend an initial Resident Assistant Orientation/Training Workshop
Meet with your Resident Hall/Apartment Director and fellow RAs in the residence hall/apartment for team building and thorough learning.  The particulars of the facility and programming for the semester will become a part of of your assignment.
Contact each resident, by phone, letter, or electronic messaging, to introduce yourself prior to the residents' arrival.
As an RA, Residence Life will provide:
Subsidized, on-campus housing, and a monthly salary
Support from Assistant Director of Residence Life with monthly meetings and training sessions
Support from Resident Director with weekly meetings and updates
Training in CPR and other useful Emergency Procedures (Fire Evacuation, Tornado Drills, Bomb Threats, Suicide and Crime Situations)
Other staff development training
Quick Tips for Resident Assistants:
Know the Campus - go on a campus tour to re-familiarize yourself with Big Blue Country
Get to know the Residents - plan and participate in Residence Life activities and events
Know the Chain of Command - Resident Assistant (RA), Asst. Resident Dir. (ARD),  Resident Dir. (RD), Area Coordinator (AC), Asst. Dir. of Residence Life (ADRL), Director of Residence Life (DORL), Vice President for Student Affairs (VP), and University President.
Know Yourself - be able to balance your relationships with your residents and colleagues, perform assigned tasks  and maintain high academic standards
---
webpage contact:
Residence Life