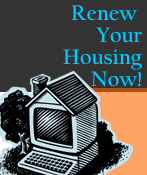 The Fall 2013-Spring 2014 on campus housing renewal process for current/returning TSU students was available March 1-April 1, 2013 (for priority consideration) and again on April 22-May 1, 2013.  If you are a current/returning TSU student who did not complete your housing application process during either one of those dates, you can check this website after June 1st regarding housing availability for Fall 2013-Spring 2014.
Currently-housed students should pay the housing pre-payment fee of $100.00 to the Bursar Office prior to submitting a housing renewal request for the next academic year. 
Room assignments will not be made until the $100.00 pre-payment is posted to their account. **Note: When making the pre-payment make sure the Bursar/cashier posts it to the correct term: 201380 (Fall 2013). Posting to the incorrect term will delay renewal.
The renewal application MUST BE completed online .   Please complete the  Renewal Application for Current On-campus Students form below. The $100 pre-payment is non-refundable; however, it goes toward the housing fees for the fall 2013 semester.

Renewal Application for Current On-campus Students
---
webpage contact:
Residence Life