Student Employment Opportunities
Are You Ready to THINK. WORK. SERVE?
Resident Assistant (RA) Applications will be accepted for the Spring 2018 semester during the period of October 23-November 6th, 2017 . 
Please remember to  compile your recommendation letters (one recommendation must be from a TSU official, the other can be from a family friend, pastor, community member, etc.), resume and cover letter for the interview step.  Students who are awarded an interview will receive information regarding their application status by November 15th, with interviews scheduled shortly thereafter. For more information email Ms. Sonja Revell at srevell@tnstate.edu.
Resident Assistant JOB DESCRIPTION  - Live-In Position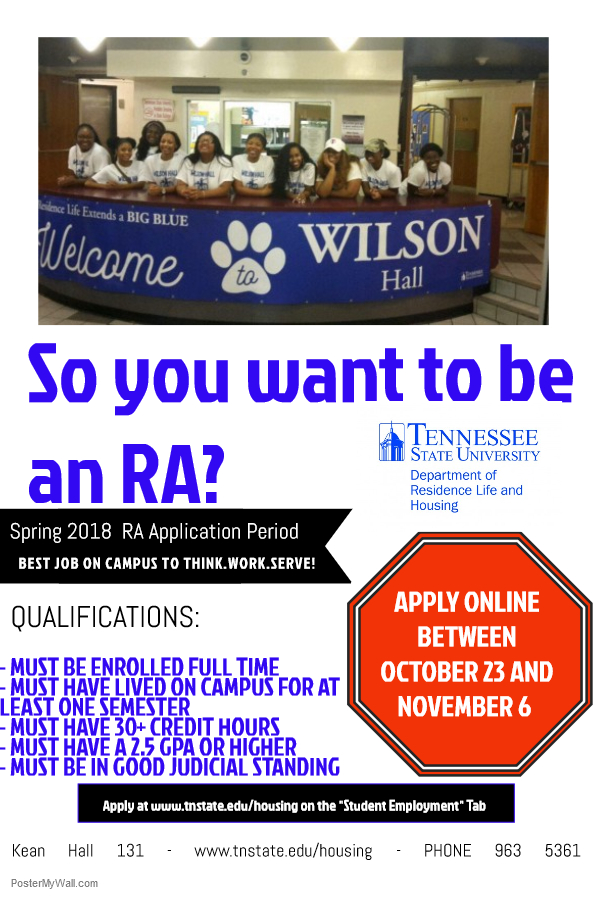 In order to be considered you must:
1) Have a 2.5 GPA or Higher
2) Be Enrolled as a Full-Time Student
3) Must have lived on campus for at least one semester
4) Must have at least 30+ credit hours
5) Must have good judicial standing
---
webpage contact:
ResidenceLife