Health Information Management
Utilizing Technologies in Healthcare Organizations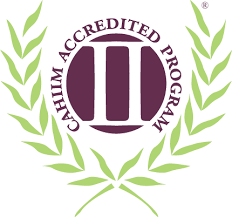 The Health Information Management program offers a Bachelor of Science degree (BS) with a curriculum which combines the disciplines of:
Medicine

Information Technology

Management

Healthcare

Finance

Law



The Baccalaureate Degree Program at Tennessee State University is accredited by the
Commission on Accreditation for Health Informatics and Information Management
Education (CAHIIM).
About Our Program
TSU's HIM curriculum prepares students to be competent, confident, innovative and contributing health information management professionals.  The principles and practices of acquiring, analyzing, and protecting digital and traditional health information are essential to patient safety and quality health care.
Students attain skills to identify and use a variety of information management resources and technologies to succeed in a broad range of healthcare organizations and related settings.  Health Information Management professionals collect, integrate, and analyze primary and secondary healthcare data, utilize new technologies, and manage information resources related to research, planning, financing, and evaluation of healthcare services.
Program Outcomes
HIM Program graduate outcomes for the academic period of 2017-2018 revealed that:
100% of graduates are employed and/or attending graduate school
95% overall retention rate
100% of employers surveyed indicated they would hire graduates of the HIM program.
Certification
Upon completion of the program, graduates are eligible to take a national certification examination and earn the credentials Registered Health Information Administrator (RHIA).  The RHIA certification exam is administered by the American Health Information Management Association ( AHIMA ) and recognized by employers throughout the continuum of healthcare. 
One of the Fasting-growing Industries 
If you have an interest in healthcare and information technology, health information management may be the right career choice for you.  As one of the fastest growing industries, a career in Health Information Management places you right where the expanding arena of healthcare meets the cutting edge of technology. It is a career for individuals who prefer to work at home. Healthcare + Technology = Success for You. More about HIM ...
 

 

 Why Come to Tennessee State University?

The HIM program at Tennessee State University is the only four-year baccalaureate degree program with a minor in general business in the State of Tennessee.


Graduates of accredited Health Information Technology (HIT) programs can transfer and apply their credits toward the four-year baccalaureate degree program.


The program prepares graduates to take the National Certification Examination for the Registered Health Information Administrator (RHIA) credential.


The program offers small class sizes with a low faculty/student ratio.


Students are also provided hands-on professional experience within various healthcare facilities.

 

  
---