News
Spotlights on Service and Success
Take a look here to see what's new in our College, involving faculty and students.  For more about CPS students, alumni and faculty, please read our newsletters ...Alumni, we are eager to reconnect - please complete this brief form to update your contact info and provide any news you would like to share.
Current Public Administration students should also visit our Bulletins page where mailings to students with important information about advising, programs, and events are archived.  You can also sign up to receive these notices.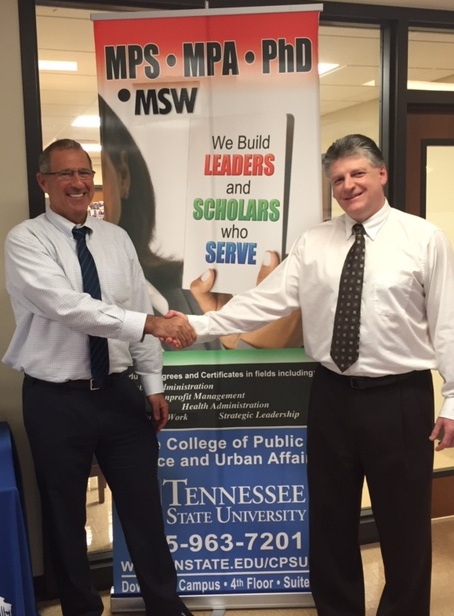 CPS Dean Michael Harris  (at left) and the faculty and staff of the Department of Public Administration congratulate  Dr. Rodney Stanley  (right) on his appointment as permanent Department Chair (4/13/2015).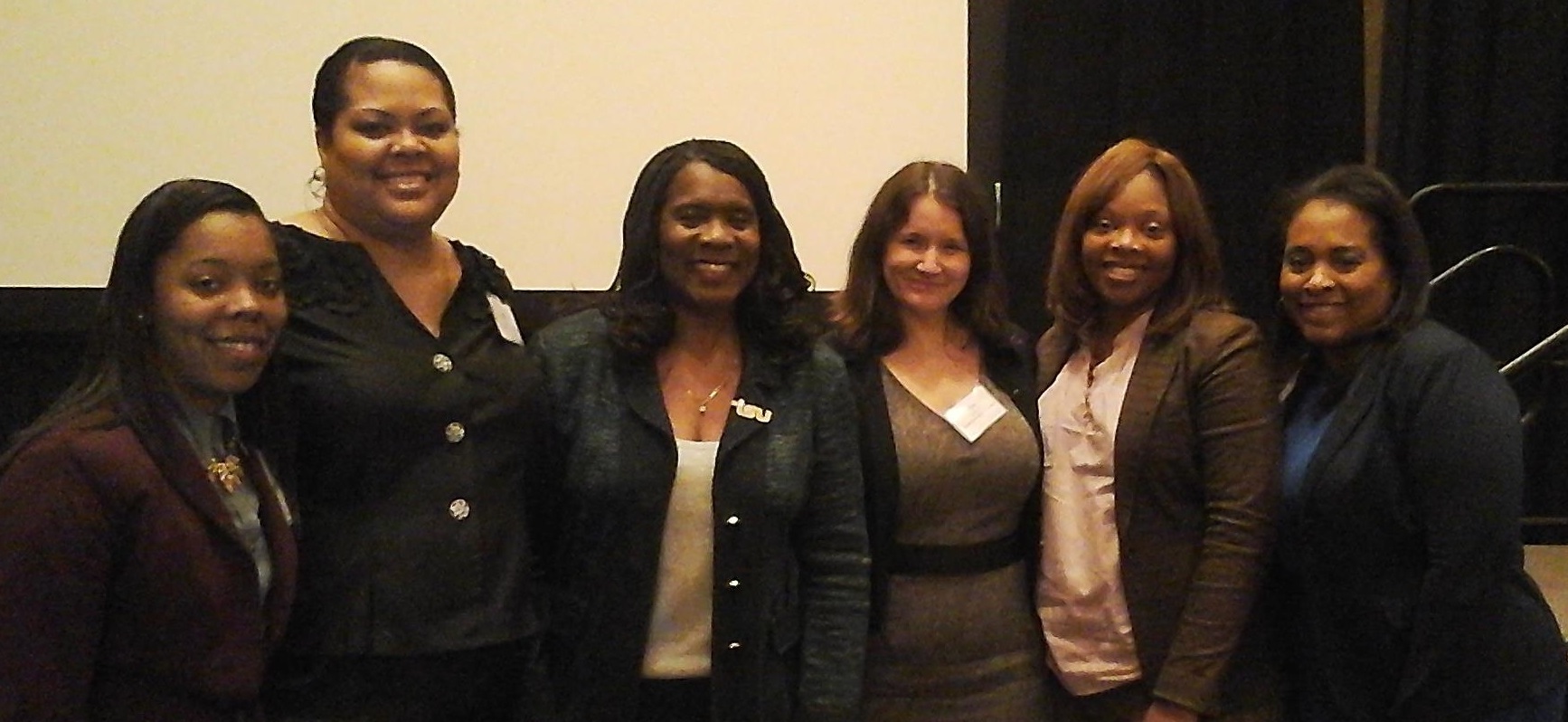 Dr. Glenda Baskin Glover was one of the Keynote Speakers at the Housing Equality of Alliance of Tennessee's 2015 Tennessee Fair Housing Matters Conference on Tuesday, April 7, 2015 in Franklin, TN. She was joined by TSU Urban Studies Program faculty and students who were also a part of the conference. In 2013 TSU received a Fair Housing Grant from HUD. The Urban Studies Program at TSU is an Operating Member of the Housing Equality Alliance of Tennessee's Fair Housing Matters Conference.
Picture (left to right): Shironika Farrior (Urban Studies student); Dr. Kimberly Triplett (Assistant Professor of Urban Studies); Dr. Glenda Baskin Glover (TSU President); Dr. Cara Robinson(Assistant Professor of Urban Studies); Tonya Thomas (Urban Studies student); Erica Carter (Urban Studies student).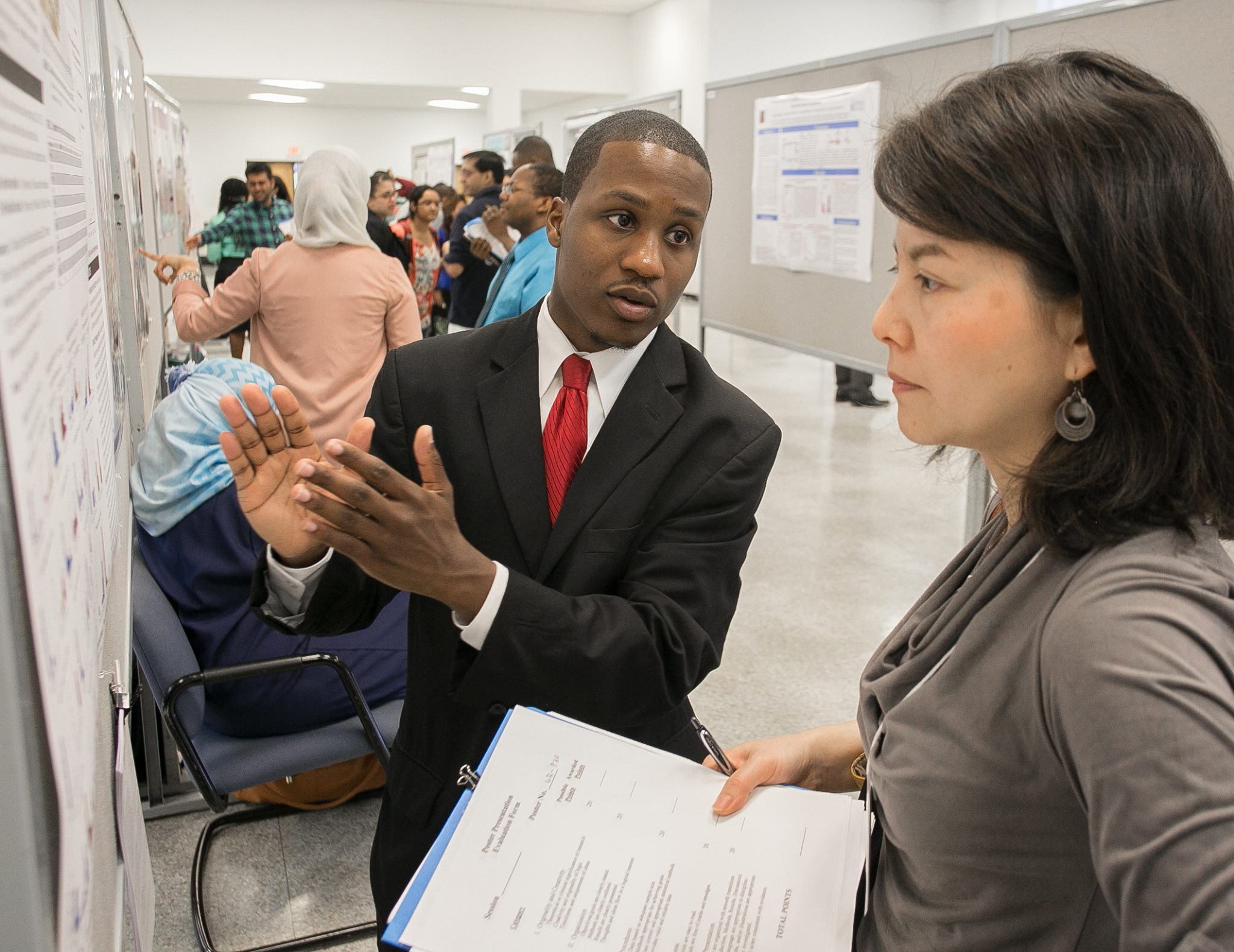 CPSUA MPA student Timothy Walker explained his research with Dr. Meg Streams (Public Administration) to poster judge Akiko Shimamoto during Tennessee State University's 37th Annual University Wide Research Symposium on April 2, 2015.  (Photo by John S. Cross, TSU Media)
Dean Michael Harris recently published a chapter in the book, Public Policy and Administration for the Curious: why study public policy and administration, published by The Curious Academic Publishing.  The book provides a variety of faculty perspectives on policy and public administration as a field of study for both undergraduate and graduate degrees.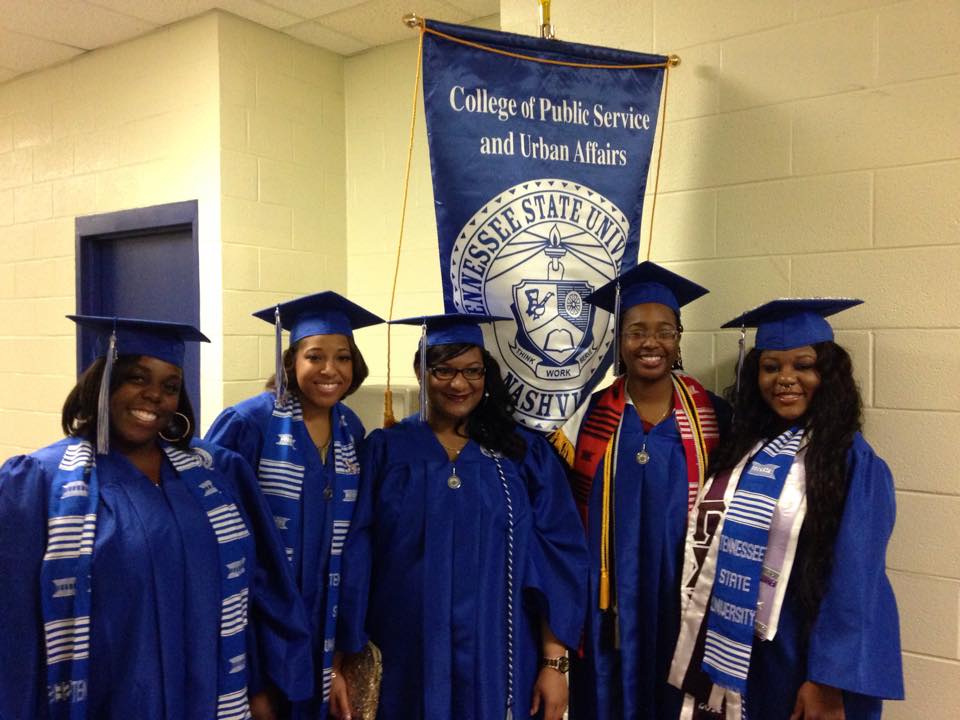 Social Work students carry the CPSUA banner at the December 2014 Commencement.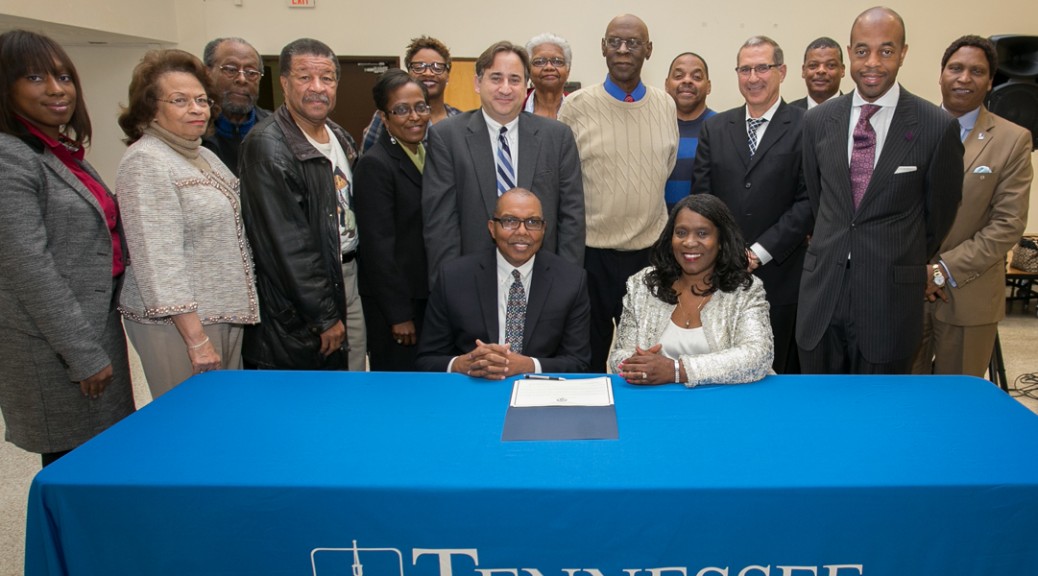 College of Public Service and Urban Affairs leads Footprint Collaborative through C.A.R.E.S. - Read about the TSU Footprint Collaborative, announced at a press conference (shown) December 4, 2014. This is an exciting new relationship and commitment for the University, CPSUA students, faculty and our neighbors in the community: "In an agreement signed Thursday between TSU and the neighborhood groups, the University, through its Center on Aging Research and Education Services in the College of Public Service and Urban Affairs, will develop lifelong learning programs that include classes on civic education and duties, oral history, technology and community gardening" (from the press release).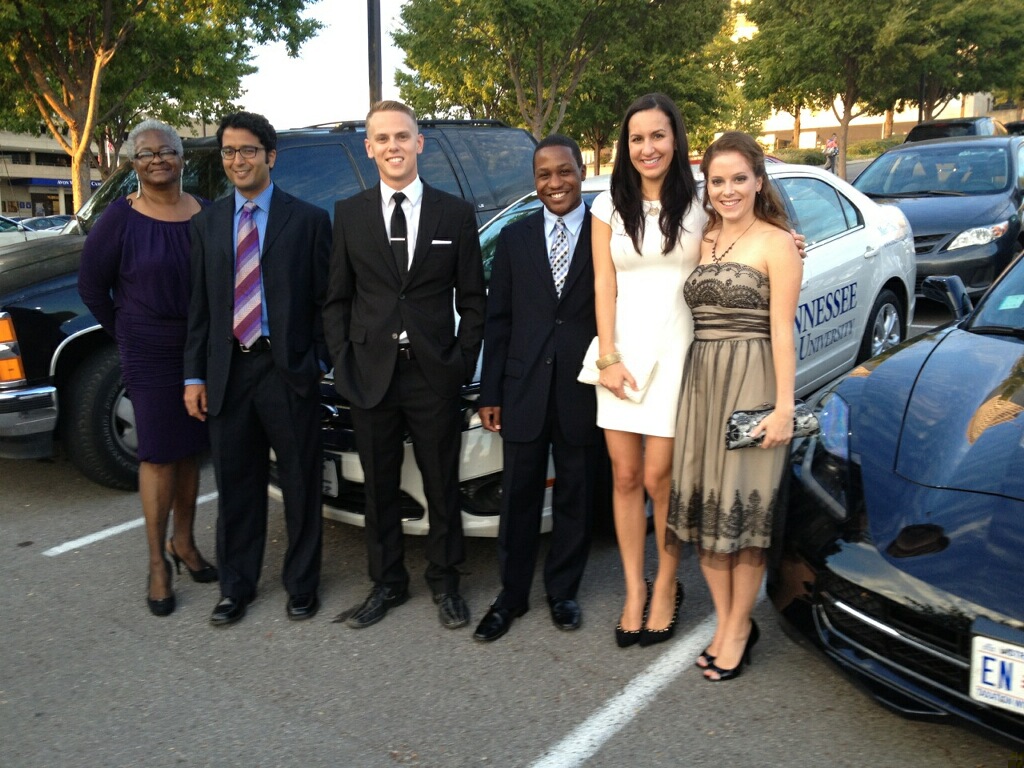 Graduate students, staff and faculty from the College of Public Service and Urban Affairs attended the TSU Scholarship Gala on September 26, 2014; pictured here from left, Ms. Peggy Cameron (Public Administration), Dr. Dhanaraj Thakur (Public Administration), and CPSUA students Alex Frederick, Timothy Walker, Stephanie Frederick (TSU alumna) and Brianna Benson.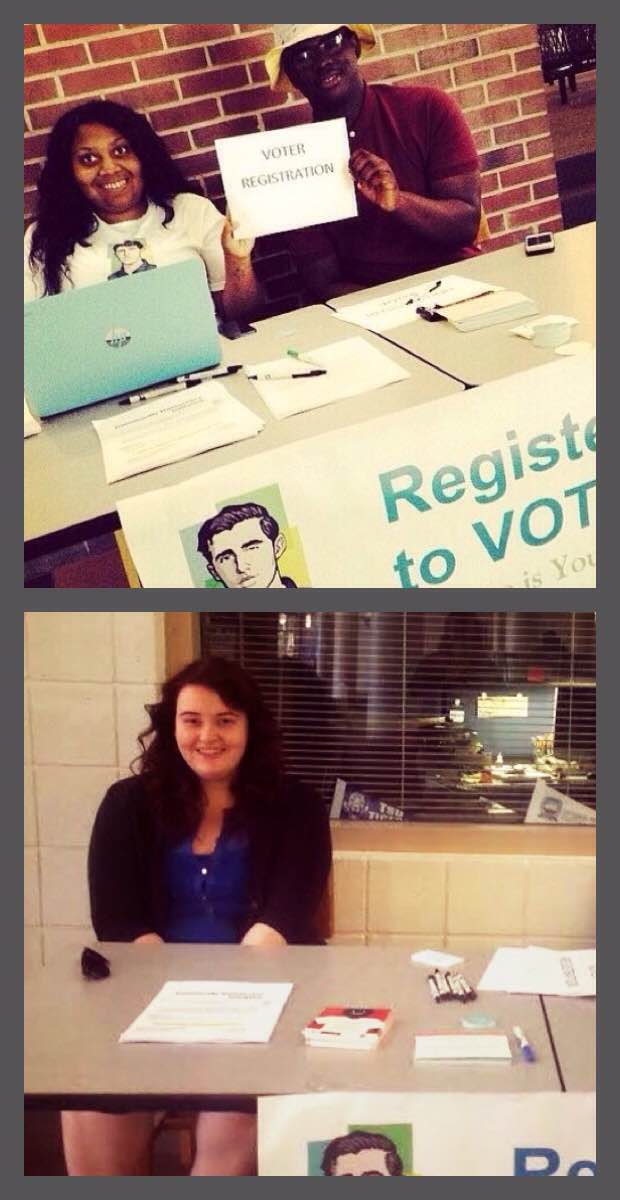 The TSU Community Democracy Initiative (coordinated by Urban Studies faculty member Dr. Cara Robinson) participated in National Voter Registration Day on September 23, 2014. The TSU Community Democracy Initiative partners with the Andrew Goodman Foundation's Vote Everywhere Project and Harvard's Institute of Politics National Campaign for Political and Civic Engagement to promote civic education and community engagement on campus and in local Nashville neighborhoods. Urban Studies majors Taylor Hollimon (upper left) and Shelby Moser (lower) are the 2014-2015 Community Democracy Ambassadors.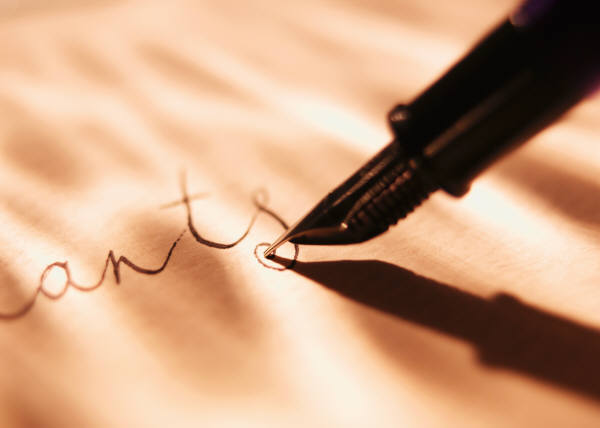 Some updates on the scholarly activities of our faculty:  
Dr. Ken Chilton
 (Public Administration) presented a paper with coauthors including 
Dr. Kimberly Triplett
 (Urban Studies) at the City Futures 2014 conference in Paris this summer. He is quoted discussing results from the paper titled, "Who Benefits from European Investment in a Midsized U.S. City? The Bad News from Chattanooga, Tennessee" in the 
linked article
. Their conference paper is also 
available
. Urban Studies faculty member 
Dr. Cara Robinson
 has recently published research from her dissertation: her article "Cable news, election coverage, and a democratic media standard" is in Volume 49 (2014) of the 
Virginia Social Science Journal
.
Dr. Meg Streams
, Associate Professor in Public Administration, has an article with coauthors in this month's 
issue (Sept. 2014) 
of the 
American Review of Public Administration
 entitled "Public employee quality in a geographic context:  a study of rural teachers." 
Prominent Nashville civil rights attorney and member of CPSUA TSU Advisory Board George Barrett died Tuesday August 26, at the age of 86 (notice in Washington Post). Dean Michael Harris stated that "George Barrett was a man of integrity, passion and profound commitment to making a difference through justice. He dedicated his life to create a more fair-minded and worthy world to live in. His legacy is of enduring impact on generations to come. We will miss him."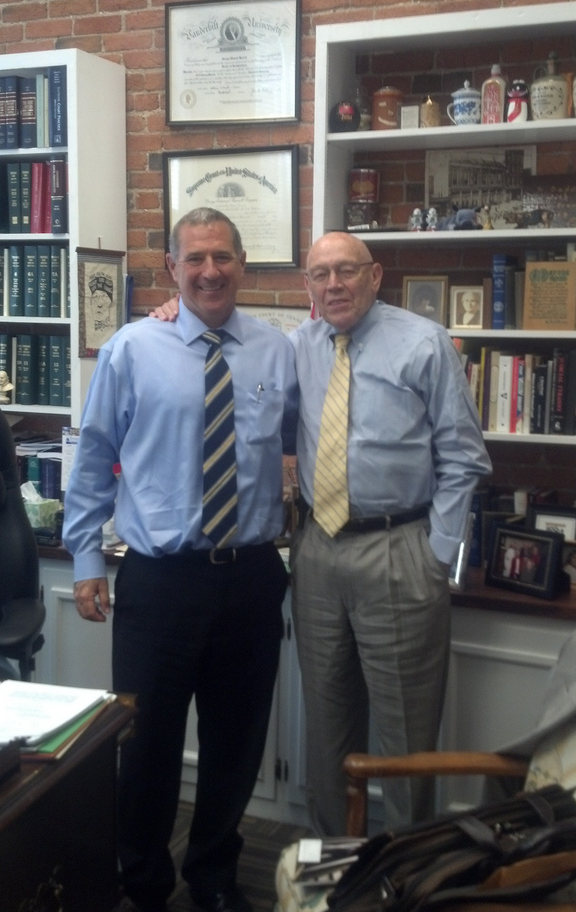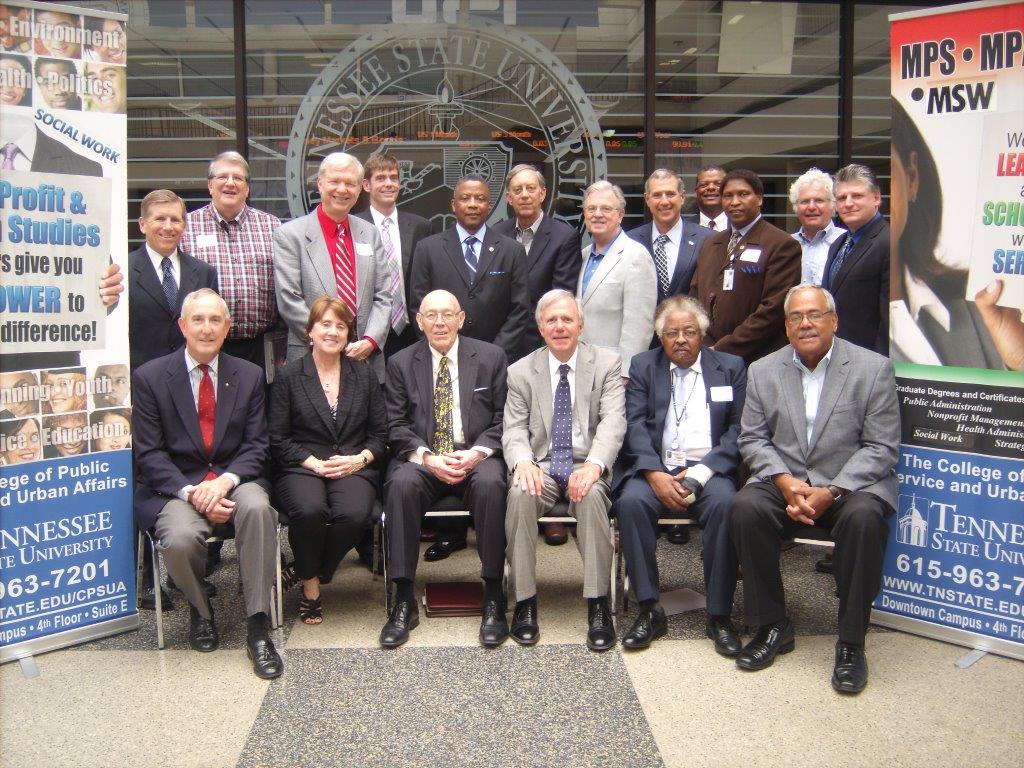 The CPSUA Advisory Board met in May 2014. Seated: (from left) Hugh Travis - CEO, Boy Scouts; Nancy Eisenbrandt - COO, Chamber of Commerce; George Barrett - Attorney, Barrett Johnston, LLC; Bill Purcell - former Nashville Mayor and CPSUA Founding Dean, Attorney Jones Hawkins & Farmer, PLC; Raymond Richardson - TSU Professor of Mathematics, Geier Intervener; Howard Gentry – Davidson County Criminal Court Clerk

Standing: (from left) Ted Fellman – Senior VP, Raymond James & Associates; Rick Bernhardt – Executive Director, Metro Planning; Coleman McGinnis – retired TSU Professor of Political Sciences, Geier Intervener; Greg Schutz – Tennessee Board of Regents, Assessment; Derrick Schofield – Commissioner, Tennessee Department of Corrections (TDOC); Lewis Lavine – President, Center for Nonprofit Management; Bill Phillips – Bill Phillips Company; Michael Harris – CPSUA Dean & Professor; Oscar Miller – Department Chair, Sociology, Social Work & Urban Professions; Mark Hardy –TSU VP for Academic Affairs; Daniel Cornfield – Vanderbilt Professor of Sociology; Rodney Stanley – Department Chair, Public Administration.

Board members not pictured: Mark Gwyn – Director, Tennessee Bureau of Investigation (TBI); Hal Cato – CEO, Zeumo; Phil Orr – Sr. VP of Community Investments for United Way; Schunn Turner – Principal, Lead Academy; Connie Williams – Executive Director, Pencil Foundation; Beverly Watts – Executive Director, Tennessee Human Rights Commission.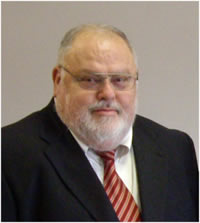 In June 2014, the College of Public Service and Urban Affairs was deeply saddened by the loss of our colleague, Professor Arie Halachmi. Dr. Halachmi was one of the most renowned scholars of Public Administration in the world. He began his career at TSU as a faculty member in public administration in 1978. His passing is a tremendous loss for the faculty, students and staff. We extend our deepest condolences to his family.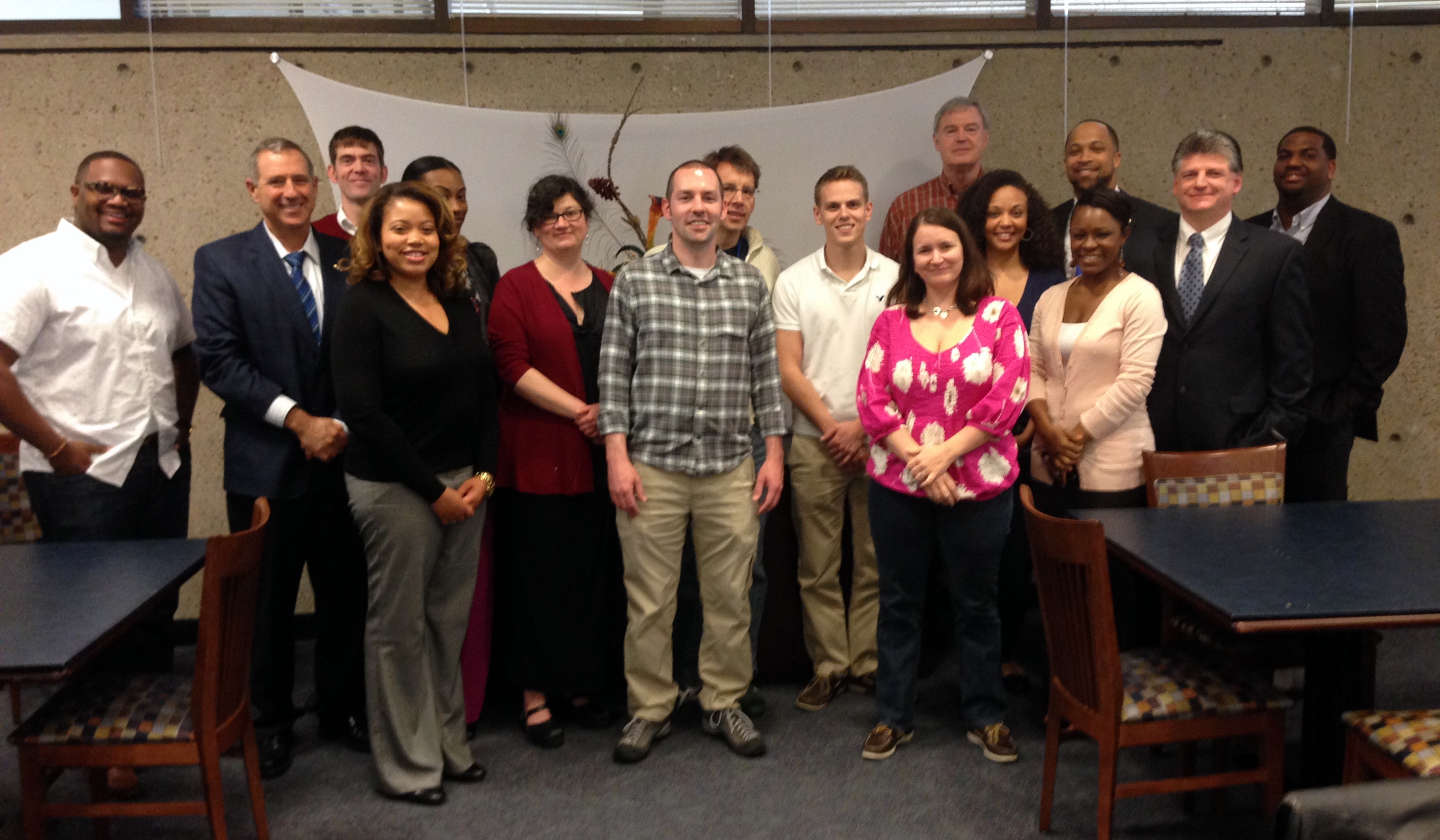 As part of the April "Legends" TSU campus-wide celebration, alumni of the PhD and MPA programs in public administration returned to campus for a luncheon with faculty and current students.  |  posted 4/30/2014 
Alpha Delta Mu Social Work Honor Society inductees for 2014 (standing) with (from left) Dean Michael Harris of CPSUA, Dr. Bobby Lovett, Professor Waldine DeBerry, Dr. Michael Wright, Professor Delores Butler, Ms. Raney Irwin and Dr. Oscar Miller.  | posted 3/20/2014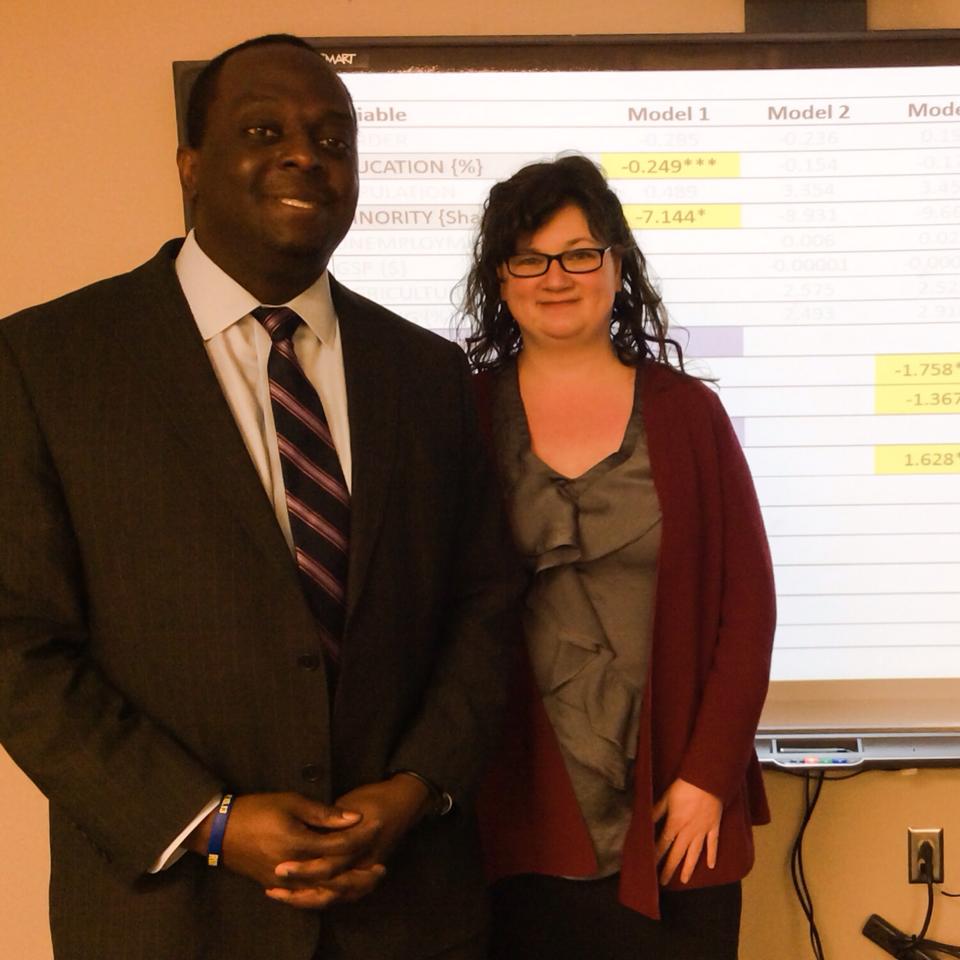 Kenyatta Lovett, PhD student in public administration, successfully defended his dissertation on 2/28/2014; pictured with his advisor, Dr. Meg Streams. His work is titled, "The diffusion of governance in state economic development."  |  posted 3/11/2014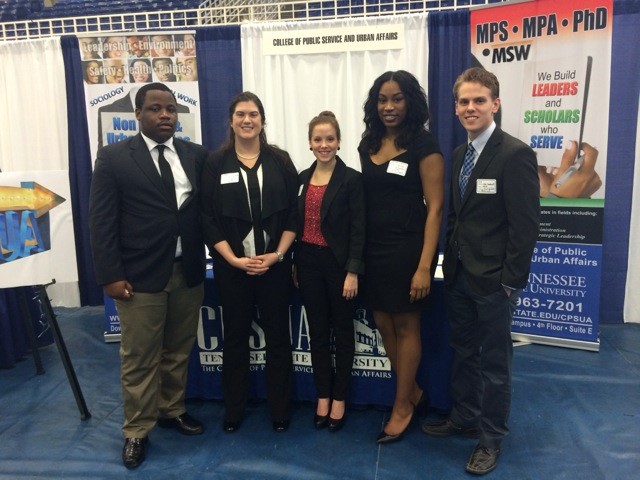 CPSUA students participating in the TSU Reverse Career Fair on February 20, 2014.  | posted 2/20/2014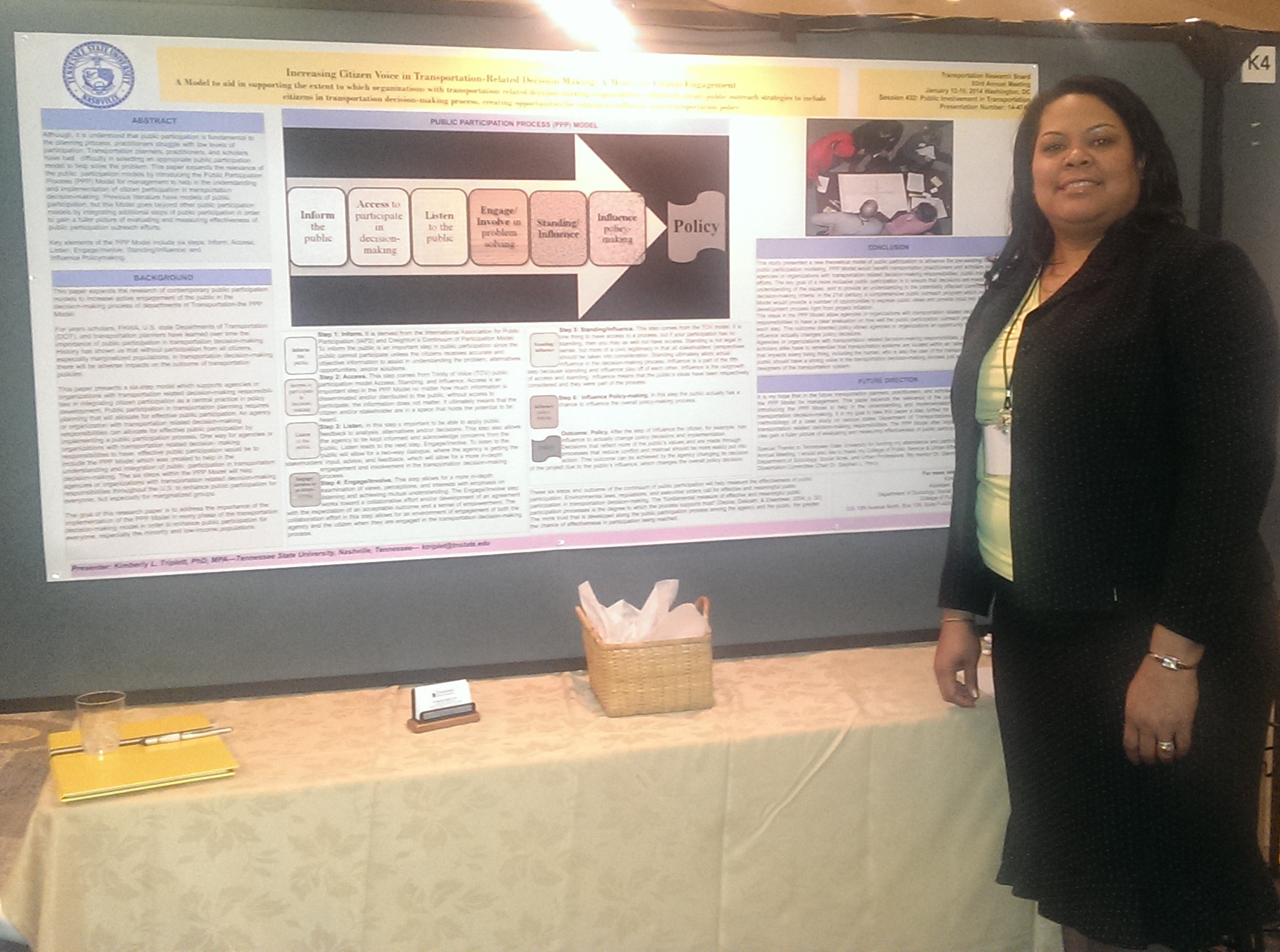 Dr. Kimberly L. Triplett, Urban Studies , presents a poster on her Public Participation Model on Monday January 13, 2014 at the 93rd Transportation Research Board Annual Meeting held in Washington, DC.  | posted 1/29/2014
MPA student Derrick Boswell discusses his research poster with an attendee at the December 12, 2013 Annual Symposium of the Tennessee Chapter of the American Society for Public Administration (TN-ASPA). | posted 1/8/2014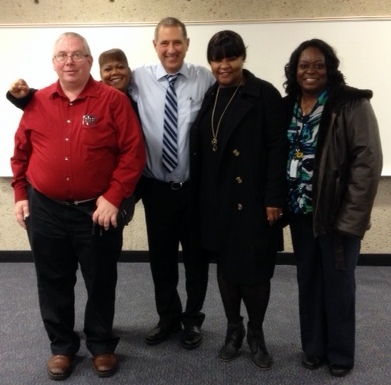 Four graduating Social Work students who have been working in Field Education under the instruction of Professor Waldine DeBerry join Dean Harris (center).  |   posted 12.10.2013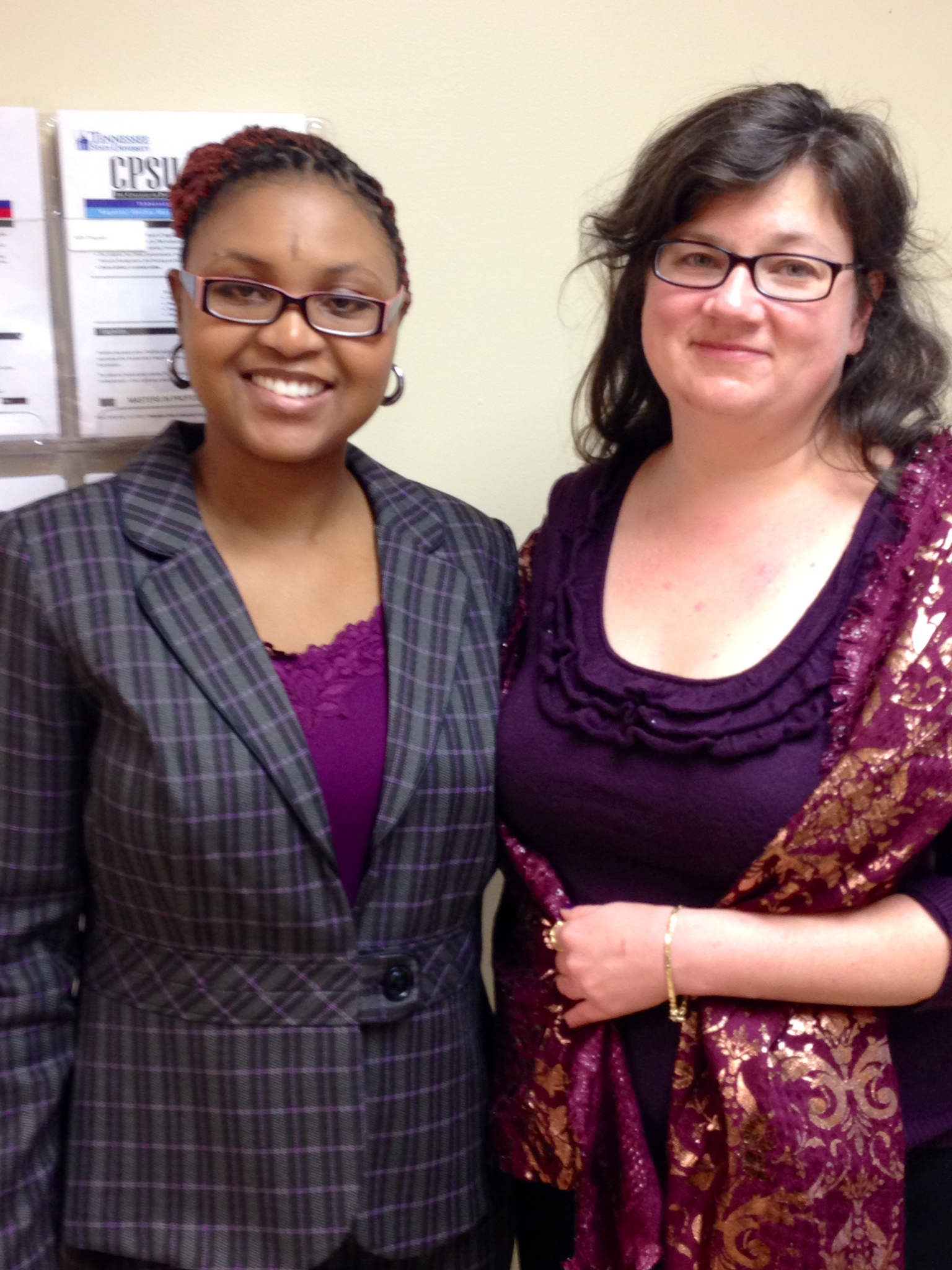 PhD student, Chipo Maringá (Public Administration), with her advisor Dr. Meg Streams, after her successful defense today of dissertation work on school-level infrastructure investment needs in Tennessee.  Congratulations Chipo! | posted 2013.10.25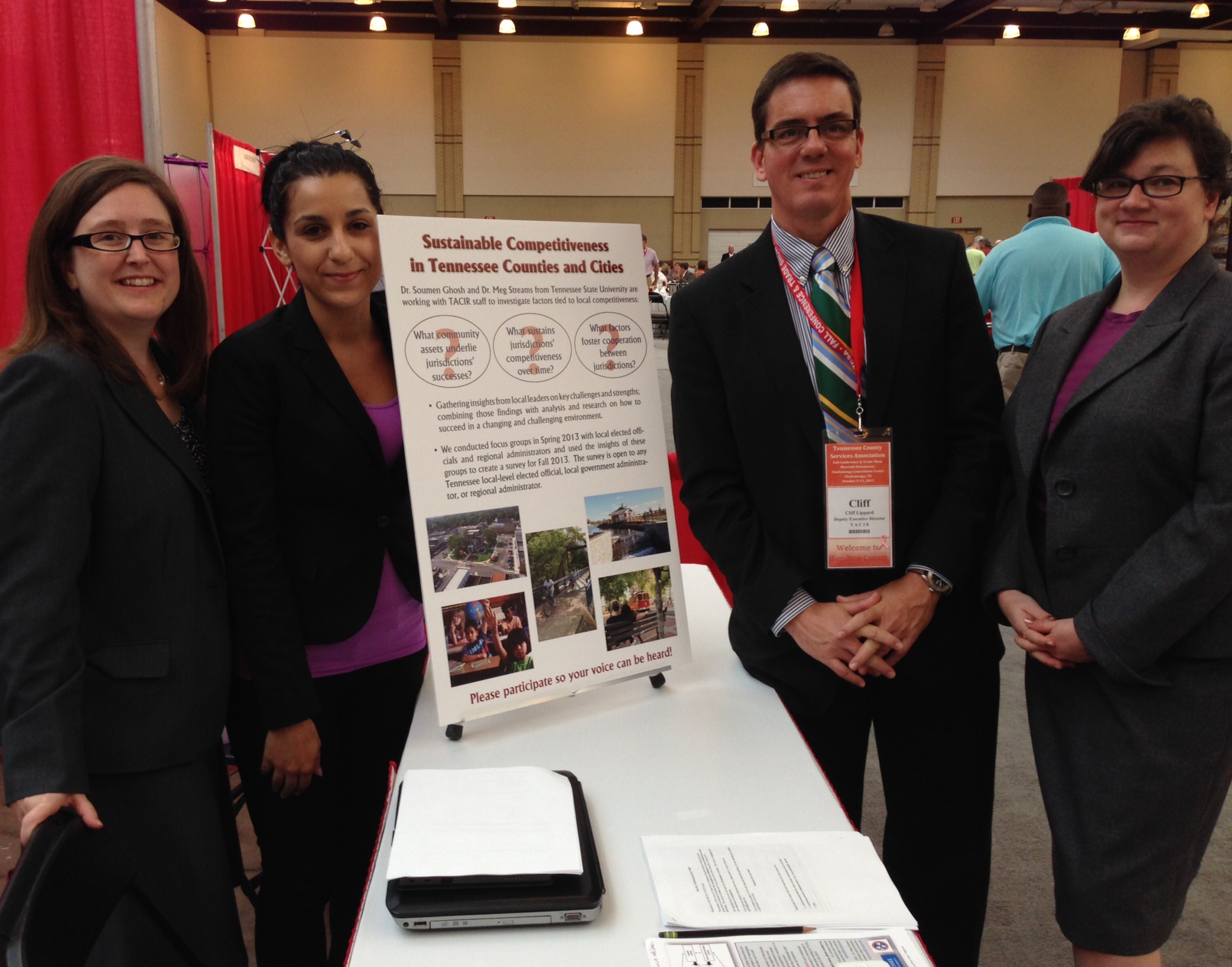 From left:  PhD student Julie Roberts (Public Administration); MBA student Vania Patartchanova; alumnus, Cliff Lippard (PhD, Public Administration) and faculty member Dr. Meg Streams at the Tennessee County Services Association annual meeting. 

Streams with colleague Dr. Soumen Ghosh of the College of Business is working on a grant project, "Analyzing factors underlying sustainable competitiveness of Tennessee cities and counties" with the Tennessee Advisory Commission on  Intergovernmental Relations, of which Dr. Lippard is the deputy executive director. | posted 2013.10.25
Current CPSUA,  student John Isbell (PhD, Public Administration) represented the International Association of Assessing Officers at the October Tennessee County Services Association meeting in Chattanooga." | posted 2013.10.25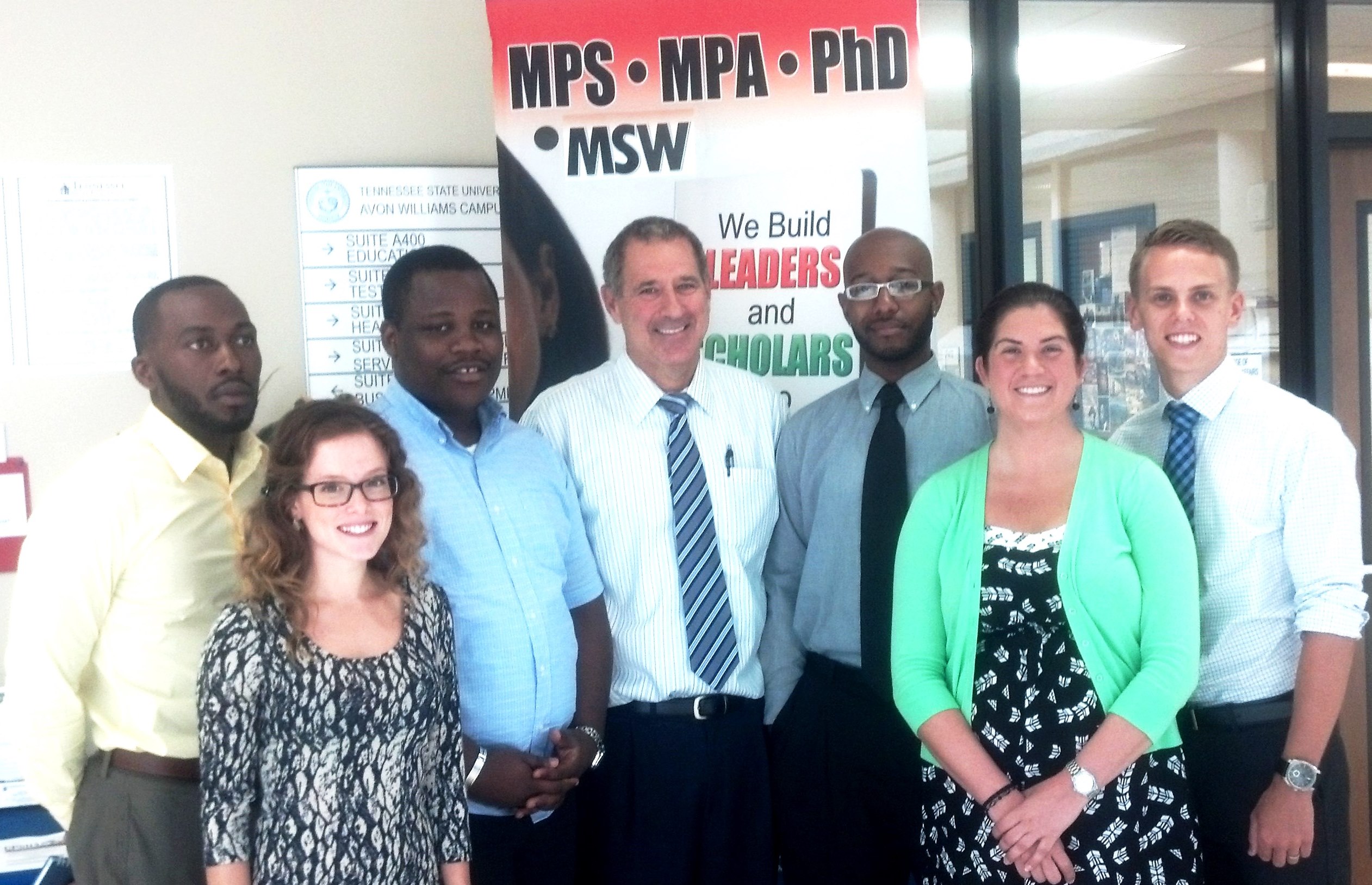 Meet our 2013 Graduate Assistants, pictured with Dean Harris.  (L - R): Patrick Walker-Reese (MPA), Brianna Benson (MPA), Chieloka Okonkwo (MPA), Dean Harris, Jarvis Turner  (MSW), Caroline Wallace (MPA), Alex Frederick (MPA)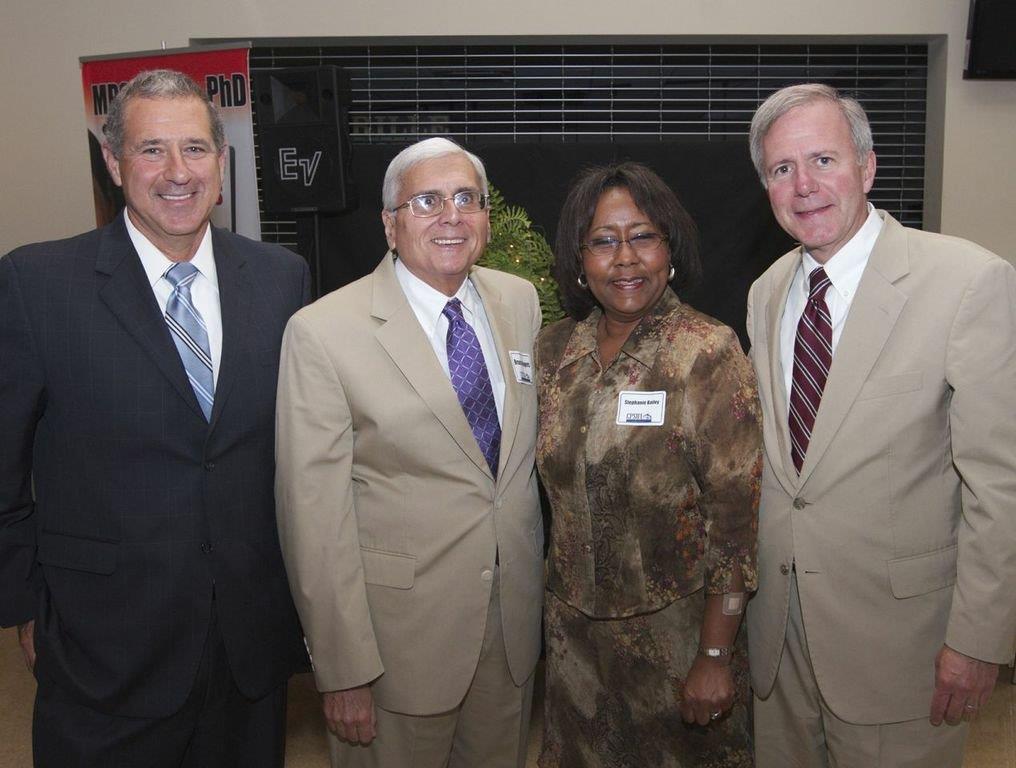 There was a rare moment in time recently when a photo was taken of CPSUA's  Dean, Michael Harris along with all three of his predecessors. Pictured (L-R) CPSUA Dean, Michael Harris, with former (Interim) Deans: Dr. Bruce Rogers, Dr. Stephanie Bailey, and former Mayor of Nashville and Davidson County, Bill Purcell.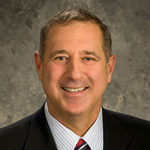 The Faculty and Staff of CPSUA welcome Dr. Michael Harris , as Dean of the College of Public Service and Urban Affairs. | posted 2013.07.01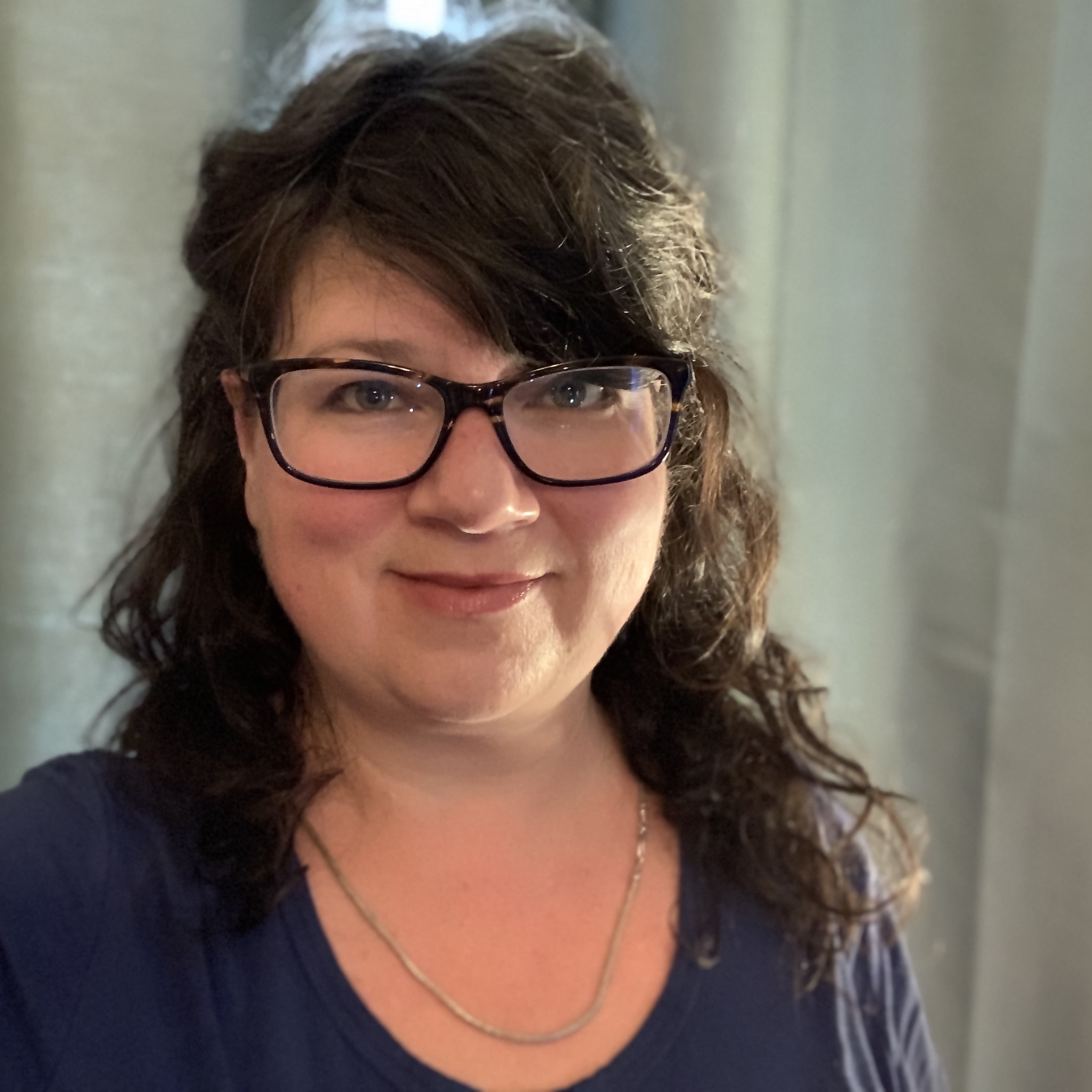 CPSUA's Dr. Megan Streams (Public Administration) recently shared her insights on the Federal deficit as part of an article for Cardhub.com, entitled: "Ask the Experts: I "If I could Make One Policy Change to Fix the Federal Deficit, I would..."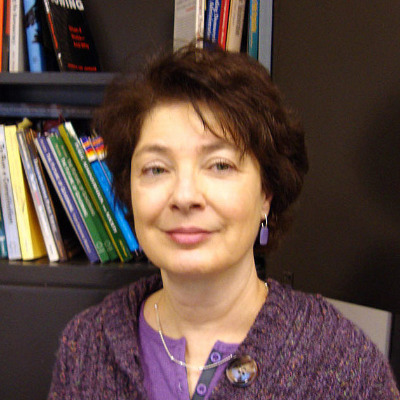 Dr. Ann-Marie Rizzo , with Dr. Sharon Thach of the College of Business presented a paper to the twelfth International Business and Economy Conference (IBEC) held in Caen, France in January. "Accession to TRIPS and Engagement with the Pharmaceutical Industry:  Brazil and India" was accepted for inclusion in the IBEC Proceedings.
Urban Studies faculty member Kimberly Triplett, Ph.D. , who joined the Department of Sociology, Social Work, and Urban Professions in August 2011, has a new publication in Race Gender & Class Journal (link to abstract: http://rgc.uno.edu/journal/journal10-16.cfm#Vol19 ): Terry D. Carmon, Glenn S. Johnson, Angel O. Torres, and Kimberly L. Triplett . "Environmental Justice and Safety Restraint in Atlanta, Georgia" Race, Gender & Class Journal . Vol. 19, Number 3-4, 2012 (217-240).
CPSUA graduate and undergraduate students will be traveling to China in May 2011 for study abroad, led by Dr. Ann-Marie Rizzo along with Dr. Chen (Business) and Dr. Hargrove (Engineering).  The group will learn about China's economy, governmental institutions and business environment, with an itinerary including Beijing, Shanghai, and Tianjin.  Visits and conferences will be arranged through Tianjin Polytechnic University.  This photo shows Chifeng Bridge in Tianjin.
---
webpage contact:
CPSUA