Dr. Quincy A. Quick
Associate Professor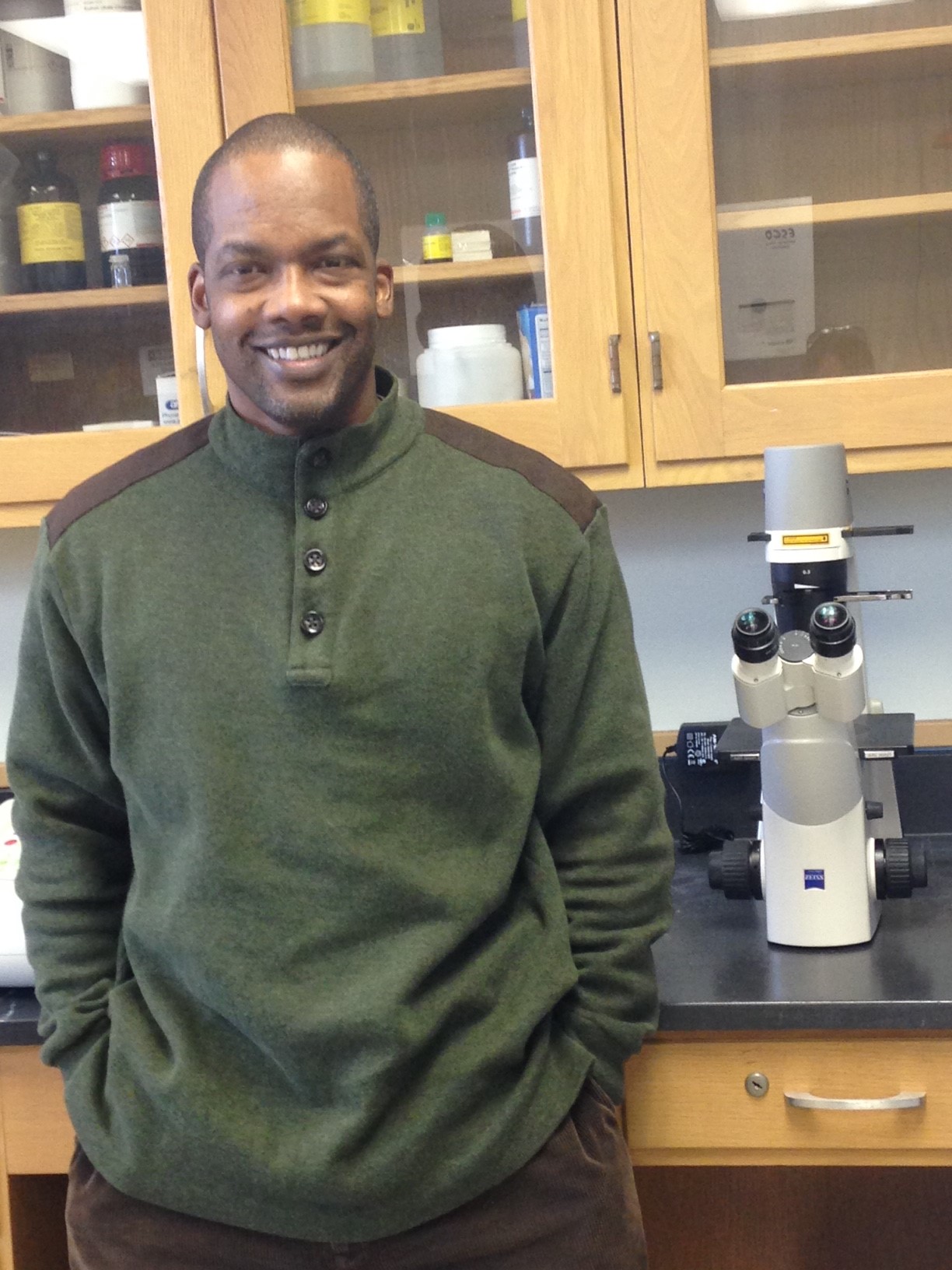 Department of Biological Sciences
   College of Life & Physical Sciences
   Contact Information
   Office: 118 Harned Hall
   Phone: 615-963-5768
   Email: qquick@tnstate.edu
Education
Ph.D. (Cell/Molecular Biology and Neuroscience) New Mexico State University 
Post-Doc (Pharmacology, Biochemistry and Neuroscience) University of Massachusetts School of Medicine
Post-Doc (Pharmacology and Toxicology) Virginia Commonwealth University School of Medicine
Post-Doc (Department of Radiation and Biophysics) Sunnybrooke Hospital-University of Toronto
Research Interests  Investigation of novel experimental therapeutics and targets for the treatment of brain tumors.
Publications 
1: Quick QA. Microtubule-Actin Crosslinking Factor 1 and Plakins as Therapeutic Drug Targets. Int J Mol Sci. 2018 Jan 26;19(2). pii: E368. doi: 10.3390/ijms19020368. Review. PubMed PMID: 29373494.
2: Afghani N, Mehta T, Wang J, Tang N, Skalli O, Quick QA. Microtubule actin cross-linking factor 1, a novel target in glioblastoma. Int J Oncol. 2017 Jan;50(1):310-316. doi: 10.3892/ijo.2016.3798. Epub 2016 Dec 9. PubMed PMID: 27959385.
3: Quick Q, Paul M, Skalli O. Roles and potential clinical applications of intermediate filament proteins in brain tumors. Semin Pediatr Neurol. 2015 Mar;22(1):40-8. doi: 10.1016/j.spen.2014.12.005. Epub 2014 Dec 11. Review. PubMed PMID: 25976260.
4: Mehta T, Vercruysse K, Johnson T, Ejiofor AO, Myles E, Quick QA. Violacein induces p44/42 mitogen-activated protein kinase-mediated solid tumor cell death and inhibits tumor cell migration. Mol Med Rep. 2015 Jul;12(1):1443-8. doi: 10.3892/mmr.2015.3525. Epub 2015 Mar 20. PubMed PMID: 25816226; PubMed Central PMCID: PMC4438925.
5: Mahdavian E, Palyok P, Adelmund S, Williams-Hart T, Furmanski BD, Kim YJ, Gu Y, Barzegar M, Wu Y, Bhinge KN, Kolluru GK, Quick Q, Liu YY, Kevil CG, Salvatore BA, Huang S, Clifford JL. Biological activities of fusarochromanone: a potent anti-cancer agent. BMC Res Notes. 2014 Sep 3;7:601. doi: 10.1186/1756-0500-7-601.PubMed PMID: 25187308; PubMed Central PMCID: PMC4168212.
6: Mahdavian E, Marshall M, Martin PM, Cagle P, Salvatore BA, Quick QA. Caspase-dependent signaling underlies glioblastoma cell death in response to the fungal metabolite, fusarochromanone. Int J Mol Med. 2014 Sep;34(3):880-5. doi:10.3892/ijmm.2014.1842. Epub 2014 Jul 9. PubMed PMID: 25016928; PubMed Central PMCID: PMC4121350.
7: Williams M, Tietzel I, Quick QA. 1'-Acetoxychavicol acetate promotes caspase 3-activated glioblastoma cell death by overcoming enhanced cytokine expression. Oncol Lett. 2013 Jun;5(6):1968-1972. Epub 2013 Apr 5. PubMed PMID: 23833677; PubMed Central PMCID: PMC3700938.
8: Quick QA, Faison MO. CHOP and caspase 3 induction underlie glioblastoma cell death in response to endoplasmic reticulum stress. Exp Ther Med. 2012 Mar;3(3):487-492. Epub 2011 Dec 19. PubMed PMID: 22969916; PubMed Central PMCID: PMC3438596.
9: Henry WI, Dubois J, Quick QA. The microtubule inhibiting agent epothilone B antagonizes glioma cell motility associated with reorganization of the actin-binding protein α-actinin 4. Oncol Rep. 2011 Mar;25(3):887-93. doi: 10.3892/or.2011.1145. Epub 2011 Jan 13. PubMed PMID: 21234524.
10: Quick Q, Skalli O. Alpha-actinin 1 and alpha-actinin 4: contrasting roles in the survival, motility, and RhoA signaling of astrocytoma cells. Exp Cell Res. 2010 Apr 15;316(7):1137-47. doi: 10.1016/j.yexcr.2010.02.011. Epub 2010 Feb 12. PubMed PMID: 20156433.
11: Quick QA. Epothilone B induces glioblastoma cell death via surviving down-regulation. Exp Oncol. 2008 Sep;30(3):195-201. PubMed PMID: 18806741.
12: Quick QA, Serrano EE. Cell proliferation during the early compartmentalization of the Xenopus laevis inner ear. Int J Dev Biol. 2007;51(3):201-9. PubMed PMID: 17486540.
13: Quick QA, Gewirtz DA. An accelerated senescence response to radiation in wild-type p53 glioblastoma multiforme cells. J Neurosurg. 2006 Jul;105(1):111-8. PubMed PMID: 16871885.
14: Quick QA, Gewirtz DA. Enhancement of radiation sensitivity, delay of proliferative recovery after radiation and abrogation of MAPK (p44/42) signaling by imatinib in glioblastoma cells. Int J Oncol. 2006 Aug;29(2):407-12. PubMed PMID: 16820883.
15: Quick QA, Serrano EE. Inner ear formation during the early larval development of Xenopus laevis. Dev Dyn. 2005 Nov;234(3):791-801. PubMed PMID: 16217737; PubMed Central PMCID: PMC2829094.
16: Serrano EE, Trujillo-Provencio C, Sultemeier DR, Bullock WM, Quick QA. Identification of genes expressed in the Xenopus inner ear. Cell Mol Biol (Noisy-le-grand). 2001 Nov;47(7):1229-39. PubMed PMID: 11838972.
Courses taught at TSU
Biology 1010 Introductory Biology I 
Biology1020 Introductory Biology II
Biology 1110 General Biology I
Biology 7120 Molecular Biology
---
webpage contact:
Biology