Legends Weekend 6
April 10 - 12, 2015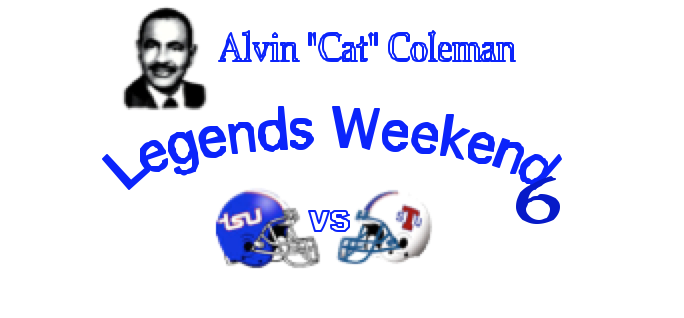 Tennessee State University Football Alumni Chapter is excited about this year's Alvin "Cat" Coleman Legends Weekend 6  in conjunction with the third annual Big Blue Coming Home Weekend scheduled for April 10 - 12, 2015.  We are excited to invite you to be a part of this festive weekend. Players from 1950 – 2010 are invited to participate in a game of flag football proceeding the Blue and White scrimmage. Put on your game face and show that ole Tiger spirit.
A roster of twenty players will make up the Legends teams.  Don't miss your opportunity to play or root from the sideline.   Please note the deadline is Monday, March 30, 2015 is the deadline to register for this event.  The registration fee of $50.00 per participant will include game day tailgate and game jersey.  Hotel accommodations are available at the Millennium Maxwell House Hotel at the rate of $108 per night.  For reservations contact (615) 259-4343 or www.millenniumhotels.com and ask for the TSU rate.
Don't delay, register for the 2015 Alvin "Cat" Coleman Legends Weekend by visiting www.tnstate.edu/alumni.  Make your check or money order payable to TSUNAA – Football Chapter and mail to Tennessee State University Football Alumni, 3500 John A. Merritt Blvd Campus Box 1163, Nashville, TN 37209-1561. 
 We look forward to ALL of our Tigers coming back to be a part of this exciting weekend.  Reach out to your teammates and encourage them to meet you on the field.  If you have questions or comments, please contact me at mcraeje83@gmail.com or (615) 491-2969.
Thanks,
Jerrold McRae, Sr.              
President, TSUAA Football Alumni Chapter                                                              
 
 
Highlights from Legends Weekend 2013
---
webpage contact:
Alumni Relations