Home >
> William Hayslett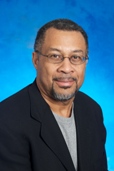 William F. Hayslett
Assistant Professor /Academic Coordinator
Department of Agricultural and Environmental Sciences
College of Agriculture, Human and Natural Sciences
Contact Information:
Office Location: 109 Farrell-Westbrook  
Telephone:  615-963-5438
FAX:  615-963-5888 
Email:  whayslett@tnstate.edu
Research Areas:
Cultural Practices on Horticultural Crops
Publications: 
Hayslett, W.F., E.B. Williams and S.L. Shaw. 1994. The response of Iridon Chrysanthemums to different kinds of growth regulators.  HortScience 28 (5) 543.
Shaw, S.L., W.F. Hayslett and E.B. Williams. 1993. Growth of ornamental cabbage as affected by nuiconizole, phosphorus and water stress. HortScience 27 (6) 664.

Clardy, A.E., W.F. Hayslett, and S.L. Shaw. 1992.  Effect of Paclobutrazol, Uniconizole, Daminozide and fertilizer on potted chrysanthemums. HortSciences 27 (6) 647.                                                                                              
Professional Membership:
■American Society for Horticultural Science (ASHS)
■Tennessee Association Colleges Teachers of Agriculture (TACTA)
■Minorities in Agriculture, Natural Resources and Related Sciences (MANRRS)

Teaching:  
AGSC 4710/4720- Seminar
AGSC 4500-Senior Project
AGSC4260-Greenhouse Operation and Management
AGSC 4250-Floral Design  
AGSC 4240-Turfgrass Management
AGSC 3350-Landscape Plants and Design
AGSC 3340-Forestry           
AGSC 3330-Floriculture
AGSC 3210-Principles of Crop Science
AGSC 1200- Introduction to Plant Science
Education:
B.Sc (Plant Science). –Tennessee State University
M.Sc (Plant Science/Horticulture). - Tennessee State University  
Date joined staff: January, 1975
---
webpage contact: