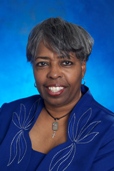 Barbara Canada
Assistant Professor, Community Resource Development Specialist
Department of Family and Consumer Sciences
College of Agriculture, Human and Natural Sciences
Contact Information
Office Location: 214B Farrell-Westbrook
Telephone:  615-963-2294
FAX:  615-963-1840
Email:  bcanada@tnstate.edu
Research Areas
Gerontology, Faith and Health.
Most Significant Publications
Canada, B. J., Life Satisfaction and Self-Concept of Elderly Living in Congregate and Non-Congregate Housing in Knox County, Tennessee, Dissertation, 2003.
Canada, B. J., Hulsman, B., and Netherland, J., Access to Quality Health Services in KnoxCounty, TN, Paper prepared in2000.
Canada, B. J., Galbreath, D., Wingfield, R., Allen, L., Bailey, S., Bossier, J., Cohen, M., Harrison, F., Hill, J. B., Jackson, M., Johnson, J., Naranjo, J., Rose, R., Robinson, K., Sadler, L., Sanders,
D., Turner, J., Weaver, A., and Tidwell, L., Environmental Justice in the State of Tennessee: A Strategic Plan, Published November 2000.
 
Teaching
Health and Exercise Science
American Red Cross- First Aid, CPR and AED: Responding to Emergencies (2000-2006)
Alcohol and Drugs and the College Student
Personal Health and Wellness
Health Communications

Social Work
Human Behavior in the Social Environment II
Theology
Crisis and Trauma Counseling: CC 510
Healing Relationships: CC 300

Freshman Orientation   

Introduction to College Extension
Presentations
October 29, 2008 – "Seniors: Resilient and Resourceful," Senior Day, Shelby County, TN.
November 8, 2008 – "Using Technology to Advance Small Business Enterprise: Excel            Spreadsheet", Extension Technology Training Session with Mobile Technology Van, Haywood County, TN.
November 20, 2008 – Webinar Internet Training, "Care-giving In An Aging Society: A         Compendium of Issues!" Tennessee Family and Community Education Club Leader Training, Statewide.
November 28, 2008 – Senior Day '08, C.E. McGruder, Did You Know Fact Sheets and     Resource Page," Davidson County, TN.
Other Organizations
Building A Bridge From Youth to Older Adulthood," Department of Health and Human Services 3rd Annual Prevention Summit, Washington, DC, 2005.
Current Health Issues of Seniors and How They Impact Us, Our Families and Our Communities," Knoxville District Baptist Association, Knoxville, TN, 2005.
"Developing Health-Related Partnerships Through Community Outreach," Alpha Kappa Alpha Sorority, Inc. Regional Conference, Birmingham, Alabama, 2004.
Awards and Honors
Member, National Extension Association of Family and Consumer Sciences, 2008.
Member, Meharry/Vanderbilt CFAR, HIV/AIDS, Nashville, TN, 2007-present.
Member, Board of Directors, Senior Citizen's Home Assistance Services, Inc., Knoxville, TN, 2007-present.
Member, Knoxville Area Urban League "Urban Youth Empowerment Program" Advisory Council, 2007- present.
Meharry/Knoxville College HBCU Wellness Project, 2006-2008.
Member, Leadership Knoxville Class, 2006 to 2007.
Nominated for Robert Wood Johnson Foundation "Community Leader Award," 2005.
Chi Eta Phi Nursing Sorority, Humanitarian Award, 2004.
Iota Phi Lambda (Business Sorority) First Runner-Up – "Bronze Woman Award," 2004.
National Association of Social Workers – Student of the Year (State & Local), 1996.
Education
Ph.D. (Community Health Education), University of Tennessee, Knoxville,  2003.
M.S. (Social Work), University of Tennessee, Knoxville, 1996.
B.S. (General Education), Cameron University, Lawton, OK, 1986
Date joined staff:  August 2008 
---
webpage contact: