Dr. Chandra Reddy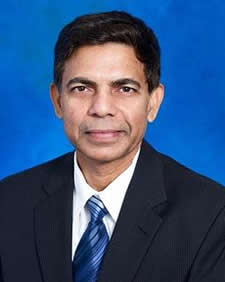 Chandra Reddy is Dean of the College of Agriculture, Human and Natural Sciences and Director of Research/Administrator of Extension at Tennessee State University, in Nashville, Tennessee.  Dr. Reddy earned his B.S. and M.S degrees from Andhra Pradesh Agricultural University, India in 1974 and 1977, respectively, and his Ph.D. degree in Agronomy from the University of Florida in 1982. He completed Harvard University's Management Development Program in 2006, and in 2012 he completed the Association of Public and Land-Grant Universities' two-year national leadership development program and also became a Fellow of the Food Systems Leadership Institute. In 2014, he completed a two-year Executive Leadership development program at the Millennium Leadership Initiative (MLI) Institute- with the American Association of State Colleges and Universities (AASCU) in Washington, DC. 
An agronomist by training, Dr. Reddy has focused much of his work on soil quality, crop production and environmental sustainability issues.  Dr. Reddy's early research was conducted in Africa while serving on a USAID-funded Institution Building Project (lead institution-Purdue University), and focused on ways local farmers could improve millet and cowpea production. His more recent research work was conducted in Alabama, developing practices to conserve soils, enhance environmental quality and improve soil productivity in the cotton production systems in the Southeastern US.  Dr. Reddy has published his research findings in a number of prestigious journals, books, and conference proceedings, with current totals including 258 publications and numerous externally funded research projects.  He has taught both undergraduate and graduate-level courses and directed the thesis/dissertation research of several M.S. and Ph.D. degree candidates.
Before beginning his tenure at TSU, Dr. Reddy served Alabama A&M University in Huntsville, AL, as Professor of Agronomy for 25 years and Dean of Graduate Studies for six years.  He also served as Faculty Senate President for three years and became the first faculty member in the school's history to serve on the Board of Trustees.
An active promoter of STEM education, particularly for minorities, Dr. Reddy joined TSU in 2008 as Dean and has since restructured the School of Agriculture and Consumer Sciences, overseen the creation of the College of Agricultural, Human and Natural Sciences, strengthened academic programs, tripled undergraduate student enrollment and multiplied graduate student enrollment by nine fold in Agricultural Sciences and added new graduate and undergraduate degree programs. During this time period, research grant funding in the College has tripled and outreach activities have grown from 13 counties in 2008 to 51 counties in 2015. Under his leadership, the College has also embarked on a multi-million dollar grant-funded facilities expansion program, including construction of several new buildings and the remodeling and modernization of others.
Dr. Reddy is recognized both nationally and internationally and is the recipient of a number of prestigious honors and awards. His most recent achievements, both of which were awarded in 2013, include being recognized as one of the top professors in the nation by Affordable Colleges Online and the USDA/NIFA Partnership Award for Effective and Efficient Use of Resources. Additionally, Dr. Reddy has received the 2008 George Washington Carver Agricultural Excellence Award sponsored by the US Agency for International Development, the 2010 Fellow of the Soil Science Society of America, and the 2006 Fellow of the American Society of Agronomy. These are considered the highest honors within the professional agricultural science community and are achieved by only the top 0.3% of membership based on scholarship, professional service, and peer nominations. Further, in 2011, Dr. Reddy was awarded an honorary degree from the Tennessee FFA Organization and recognized by a House Joint Resolution from the Tennessee State Legislature in 2012 for his outstanding contributions to Tennessee State University.
In 2010, the US Secretary of Agriculture, Tom Vilsack, appointed Dr. Reddy to the prestigious National Agricultural Research, Extension, Education, and Economics Advisory Board for a three year term (2010-13) and renewed the appointment in 2014 for another three year term. This Board advises the Secretary on policy matters dealing with food, agriculture, environment, family, youth, community development, and other related issues.  He also serves on the Advisory Board of Life Sciences Center, Cumberland Emerging Technologies. Dr. Reddy and his wife, Indira, have two grown sons, Ajay and Ash


Contact Information:

Office of the Dean
College of Agriculture, Human and Natural Sciences
3500 John Merritt Blvd; TSU Box #9641
Nashville, TN 37209

creddy@tnstate.edu
Voice: 615-963-7561
FAX: 615-963-5888
---
webpage contact: