Cadet Life
Life as an AFROTC Cadet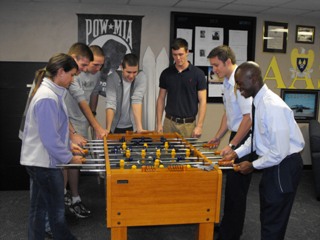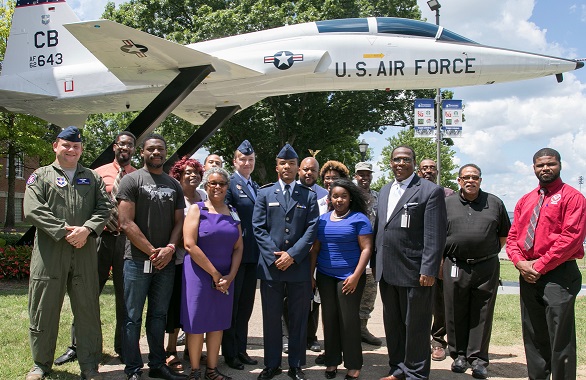 Welcome to the Air Force Reserve Officer Training Corps (AFROTC) program at Tennessee State University! Air Force ROTC is designed to produce quality Air Force officers and to create better citizens for America.
Multi-college Participation
Air Force ROTC Detachment 790, here at TSU, offers students from many different schools, both in the Nashville area (TSU, Lipscomb, Belmont, Vanderbilt, etc.) and outside of the Nashville area (MTSU, Austin Peay, Tennessee Tech, WKU, etc.) the chance to participate in its program. The most commonly attended universities within the detachment are TSU and MTSU, but as you can see, you most certainly do not have to attend either of these schools in order to be involved in AFROTC. In fact, the cadet wing (the official name for the cadet side of the organization) at Tennessee State University benefits in many ways from having such a diverse group of people present.
Aerospace, Leadership, PT Courses
Currently, classes are held on Tuesdays at TSU from 1:00 - 5:00pm for freshmen and sophomore, and 10:00am - 5:00pm for juniors and seniors. These time blocks include the Aerospace course (which is one credit for freshman and sophomore and three credit hours for juniors and seniors), Leadership Lab (LLAB) (two credit hours), and one hour of physical training (PT). An additional hour of physical training is conducted on Friday mornings from 6:00 - 7:00am at TSU for all students attending schools within 30 minutes of TSU. Students attending schools outside of that 30 minutes complete a personal PT session at their home university.   
Expansion of Academic & Leadership Skills
In addition to classes and LLAB, ROTC provides cadets with numerous opportunities to expand their academic and leadership skills. Some of the program available include:
Color Guard: ROTC cadets perform the posting/presenting of colors (flags) a numerous events around Nashville each year
Army Air Assault Course: Intended for rising seniors who are competing for a career in special operations

National

Character &

Leadership

Symposium (NCLS): brings together top Air Force and DoD leaders to speak at the USAFA
Operation Air Force: two week shadowing program offered to rising sophomores
Project Global Officer: offers a study abroad opportunity to cadets who speak specific languages  
Lawrence Livermore Laboratory Internship: intended for rising seniors who are completing STEM-focused degree plans
Arnold Air Society and Silver Wings: volunteer mentorship-focused organization which brings together from across the country


Challenging & Rewarding
AFROTC is a challenging but majorly rewarding program. Not only are cadets working towards a career as an officer in the Air Force upon graduation, but they are laying the foundation for the rest of their lives while experiencing amazing opportunities and developing relationships that will last a lifetime. If you are looking to serve your nation at the highest level, and challenge yourself to achieve excellence in all you do, come join our winning team!