Jovon Jones
A

ssociate Director of Recruitment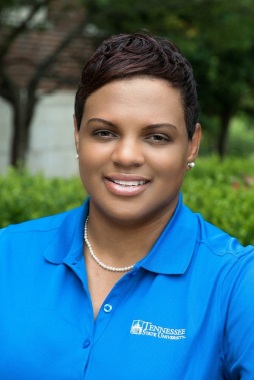 Campus Tours and Special Events
TN Counties 
Cheatham, Dickson, Giles, Hickman, Houston, Humphreys, Lawrence, Lewis, Lincoln, Marshall, Maury, Montgomery, Perry, Stewart, Wayne, Williamson
Contact Info 
About Me
Greetings and Welcome to the Land of Golden Sunshine - THE Tennessee State University!  I am so glad that you are interested in our university, where the Tigers
always Bleed Blue!  As an alumni of Tennessee State University, I am glad to share with you our rich culture, history, and academics.  So if you are in the Nashville area,
register for an official campus tour or come out to one of our local events, you will be sure to walk away pleased!  We also travel to various college fairs and special
events throughout the Midwest and Southeast so check out my schedule of events to see when I'm in YOUR area!
When I'll be In Your Area
| | | | |
| --- | --- | --- | --- |
| Date | Event | Location | Time |
| 9/4/2018 | Collierville High School College Fair | Collierville, TN | 6:30-8:00 pm (CT) |
| 9/5/2018 | Union City High School College Fair | Union City, TN | 12:45-2:00 pm (CT) |
| 9/5/2018 | Memphis Recruitment Reception | Memphis, TN | 6:00-8:00 pm (CT) |
| 9/6/2018 | Memphis Academy of Health Sciences High School Visit | Memphis, TN | 9:10-10:00 am (CT) |
| 9/6/2018 | Memphis School of Excellence High School Visit | Memphis, TN | 10:30-11:00 am (CT) |
| 9/6/2018 | Power Center Academy High School Visit | Memphis, TN | 1:00-2:00 pm (CT) |
| 9/7/2018 | Southern Heritage Classic College Fair | Memphis, TN | 9:00-1:00 pm (CT) |
| 9/12/2018 | Princeton High School College Fair | Cincinnati, OH | 5:30-7:00 pm (ET) |
| 9/13/2018 | Infinite Scholars College Fair @ National Underground Railroad Freedom Center | Cincinnati, OH | 10:00-2:00 pm (ET) |
| 9/17/2018 | Clarksville-Montgomery County College Fair | Clarksville, TN | 5:00-7:00 pm (CT) |
| 9/19/2018 | Williamson Countywide College Fair @ Cool Springs Galleria | Franklin, TN | 5:30-8:00 pm (CT) |
| 9/20/2018 | Metropolitan Nashville Area College Fair @ Tennessee State University Gentry Center Complex | Nashville, TN | 3:00-6:30 pm (CT) |
| 9/21/2018 | North Central High School Visit | Indianapolis, IN | 9:12-10:00 am (ET) |
| 9/21/2018 | Warren Central High School Visit | Indianapolis, IN | 10:30-11:30 am (ET) |
| 9/22/2018 | Circle City Classic Education Day Party | Indianapolis, IN | 11:30-2:30 pm (ET) |
| 9/25/2018 | West Kentucky Regional College Expo @ Paducah Tilghman High School | Paducah, KY | 5:30-7:30 pm (CT) |
| 9/26/2018 | Hopkinsville/Christian County Annual Regional College Fair | Hopkinsville, KY | 1:30-3:00 pm (CT) |
| 9/27/2018 | Ruskin High School Visit | Kansas City, MO | 11:30-12:30 pm (CT) |
| 9/27/2018 | Sumner Academy of Arts and Science High School Visit | Kansas City, KS | 2:00-3:00 pm (CT) |
| 9/28/2018 | Grandview High School College Fair | Grandview, MO | 7:30-10:45 am (CT) |
| 9/28/2018 | JC Harmon High School Visit | Kansas City, KS | 11:30-1:00 pm (CT) |
| 9/28/2018 | Washington High School Visit | Kansas City, KS | 1:00-2:30 pm (CT) |
| 10/22/2018 | Pattonville High School Visit | Maryland Heights, MO | 1:00-1:50 pm (CT) |
| 10/23/2018 | Jennings High School College Fair | Jennings, MO | 8:30-11:00 am (CT) |
| 10/24/2018 | St. Louis Citywide College Fair @ St. Louis University II Monastero Banquet Center | St. Louis, MO | 9:00-2:00 pm (CT) |
| 10/25/2018 | Cardinal Ritter College Prep High School Visit | St. Louis, MO | 11:00-12:00 pm (CT) |
| 10/25/2018 | Ritenour High School College Fair | St. Louis, MO | 1:15-2:30 pm (CT) |
| 10/26/2018 | University City High School Visit | University City, MO | 9:45-10:30 am (CT) |
| 10/26/2018 | Hazelwood Central High School Visit | Florissant, MO | 11:00-12:00 pm (CT) |
| 2/8/2019 | Daniel McLaughlin Therrell High School Visit | Atlanta, GA | 1:30-2:30 pm (ET) |
| 2/9/2019 | Greater Atlanta HBCU Fair @ Meadowcreek High School | Norcross, GA | 10:00-4:00 pm (ET) |
| 2/21/2019 | Northwest High School College Night | Clarksville, TN | 5:00-6:45 pm (CT) |
| 2/27/2019 | Grissom High School Power Hour Visit | Huntsville, AL | 11:35-12:35 pm (CT) |
| 3/4/2019 | Montgomery Central High School Visit | Clarksville, TN | 11:00-12:30 pm (CT) |
| 3/5/2019 | Lee High School Power Hour Visit | Huntsville, AL | 11:35-12:35 pm (CT) |
| 3/5/2019 | Woodmont Hills Church Career Fair | Nashville, TN | 6:30-8:00 pm (CT) |
| 3/7/2019 | Maplewood High School College Fair | Nashville, TN | 9:30-12:00 pm (CT) |
| 3/9/2019 | Atlanta Black Expo College Tour @ Cobb Galleria | Atlanta, GA | 9:00-3:00 pm (ET) |
| 3/9/2019 | Experience TSU Atlanta Reception @ Westin Atlanta Perimeter North | Atlanta, GA | 3:00-5:00 pm (ET) |
| 3/12/2019 | Clarksville High School Visit | Clarksville, TN | 11:30-12:55 pm (CT) |
| 3/13/2019 | Middle College at Austin Peay State University High School Visit | Clarksville, TN | 11:30-12:15 pm (CT) |
| 3/14/2019 | Northwest High School Visit | Clarksville, TN | 9:00-9:35 am (CT) |
| 3/25/2019 | John Overton High School College Fair | Nashville, TN | 10:30-12:30 pm (CT) |
| 3/26/2019 | McGavock High School College Fair | Nashville, TN | 7:30-10:30 am (CT) |
| 3/29/2019 | Nashville Big Picture High School Annual College Showcase | Nashville, TN | 9:00-11:00 am (CT) |
| 3/31/2019 | Mt. Zion Missionary Baptist Church 2019 Spring College Fair @ Old Hickory Blvd.  | Nashville, TN | 8:15-1:30 pm (CT) |
| 4/3/2019 | Wilson Central High School Spring College Fair | Lebanon, TN | 11:40-12:30 pm (CT) |
| 4/4/2019 | Cohn Learning Center College and Career Fair | Nashville, TN | 11:00-2:00 pm (CT) |
| 4/30/2019 | Northwest High School Senior Award Night | Clarksville, TN | 5:30-6:30 pm (CT) |
| 5/2/2019 | Kenwood High School Annual College Signing Day | Clarksville, TN | 9:30-10:45 am (CT) |
| 5/16/2019 | LEAD Academy High School Senior Signing Day | Nashville, TN | 9:30-11:00 am (CT) |
| 6/22/2019 | Juneteenth Black Cultural Expo @ Belle Meade Plantation Museum | Nashville, TN | 10:00-3:00 pm (CT) |
- back to top -