Home >
> Ms. Diana Scales
Ms. Diana Scales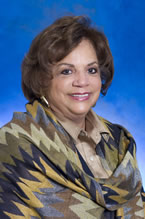 E-mail: discales@comcast.net
Office: PAC 201-J
Phone: (615) 963-7982

Education:
Masters of Science in communications/advertising from The University of Tennessee/Knoxville
Bachelor of Arts in sociology from Fisk University
Diana B. Scales began DSA Consulting in 1982, after 12 years experience in public relations and executive administration. Her education and expertise in integrated marketing communications made her uniquely qualified to provide consultation and strategic marketing plans for corporations, as well as entrepreneurs. Ms. Scales is the principal marketing consultant and directs all activities of the firm. She has also been a marketing professor in the College of Business, the College of Public Service and Urban Affairs, and the Department of Communications at Tennessee State University, as well as the Department of Business Administration at Fisk University.
 She supervises the work of a team of professional associates, who have over 50 years of combined experience in: marketing management, media planning, marketing public relations, graphics, copywriting, events management, sales promotion, marketing research, business-to-business marketing, Internet and non-profit marketing, fund raising counseling, direct marketing, multicultural marketing, and advertising production.
 Ms. Scales has held positions as public relations director for Meharry/Hubbard Hospital, under management of Hospital Corporation of America; executive assistant to the director of the Meharry Community Mental Health Center; and publications editor for the Fisk University Office of Development. She was also a recruiter/flight attendant for United Airlines.
 A native Tennessean, Ms. Scales is active in community affairs. She is past president of Women in Business, Inc. (NAWBO) and was a member of the United Way Strategic Planning Committee. She has also been on the boards of the American Diabetes Association, The Nashville Advertising Federation, The Salvation Army, and The Nashville Symphony. She was publicity chair for the 1992 National NAACP Convention and on the board of the Starlings, Boys and Girls Clubs Preston Taylor/YMCA. She is a member of the American Marketing Association, The Nashville Area Chamber of Commerce and the Executive Women's Golf League.
 She is a graduate of the National Grantsmanship Center and currently enrolled in the Ph.D. program in Non-Profit Administration in the Institute of Public Administration and Urban Affairs at Tennessee State University.
 Ms. Scales is a member of the 1989-90 class of Leadership Nashville. She was won several awards for outstanding professional and community service including: the 1990 Service Business of the Year from OMBE, State of Tennessee; a 1994 Citation of Excellence and an ADDY Award for Service from the Nashville Advertising Federation; and the NAWBO 2002 "Woman Business Owner of the Year" for consulting.
Partial Client List
 W. L. Hailey and Company
Tennessee Tech University
W. K. Kellogg Foundation
Pet Resorts of America
Metropolitan Nashville Airport Authority
Meharry Medical College
Medical Care Management Company
Fisk University Galleries of Fine Art
GAIL, Inc.
Innovative Products L.L.C.
Fisk University Office of Institutional Advancement
Tennessee State University
Earth Matters
North Nashville Community Development Corporation
General Motors Marketing Internship Program
Bredesen for Mayor
Superior Motors
Tennessee Education Association
Capital Bank & Trust
Landrum & Brown Engineers
---
webpage contact:
communications